Marrakech | The City Guide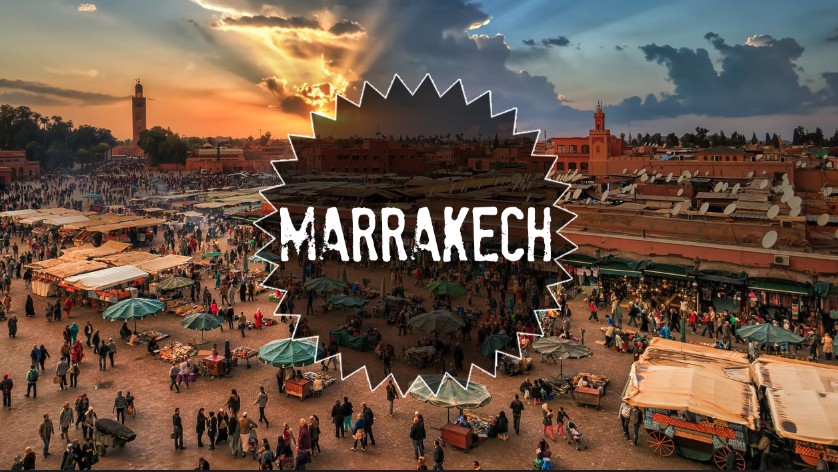 Marrakech is the kind of destination that leaves us dreamy as soon as we start talking about it. A city full of history, it amazes us with its architecture and its dominant colour ; which earned it the nickname of "Red City", especially when the sun sets. Escape for few days in the most famous city of Morocco and let yourself be transported by the general atmosphere whether you are in discovery or relaxation mode.

**City Sightseeing Bus** :
We recommend City Sightseeing buses as we think this is a good way to get a general view of the city before (or even after) you visit it. They offer a tour of the city highlighting its main monuments while giving some historical information which is always good to receive, even for experienced travelers. It is also a good way to take pictures or videos from a different angle. You can get your City Sightseeing Bus ticket HERE !
Medina: Jemaa El-Fna Square, Koutoubia Mosque, The Souks, Ben Youssef Medersa, Dar Mnebhi Palace / Marrakech Museum.
Let's begin with a tour of the medina, described as an inescapable place, Jemaa El-Fna has crowds of people mingle from morning to evening. You will find stalls of fresh orange/grapefruit juices, dates and other dried fruits and spices as well as many leather merchants. You can't miss the Koutoubia Mosque, which overlooks the square, but its entrance is however reserved for Muslims. Lose yourself in the souks and its many alleys that make this place a giant labyrinth. Visit the ancient Koranic school of Medersa Ben Youssef and the Dar Mnebhi Palace and its Marrakech Museum. Sumptuous monuments display their architecture and the mosaics will hypnotize you! For dinner, Jemaa El-Fna turns into a huge terrace where tourists come to taste the local delights outdoors. The food is very good and the atmosphere is excellent!

Medina (2): Bahia Palace, El-Badi Palace, Kasbah.
Along the lively street Riad ed Ziton el Jedid,you will find the Bahia Palace ; a masterpiece of Moroccan architecture dating back to the 19th century. As well as the El Badi Palace, dating back to the 16th century, which you can admire a panoramic view on the roofs of Marrakech, the surroundings areas around the medina, the Saadian Tombs and the Kasbah, where you can walk afterwards.

New Town: Menara Garden, Avenue Mohamed V, Majorelle Garden, La Palmeraie.
Beyond the medina walls, you can also explore the new city by going through the Babs (gates) and viewing different places walking, by horse-drawn carriage or by the City Sightseeing Bus. Take a stroll through the Menara Garden with its forty varieties of olive trees or by taking the famous Majorelle Garden (50DH), now owned by Yves Saint-Laurent and Pierre Bergé, on Mohamed V Avenue, but designed by Jaques Majorelle around his workshop which was transformed into a museum of Islamic art (25DH). It is very pretty and relaxing. La Palmeraie is the first oasis in the north of the Atlas that stretches over 13000 ha. It is accessible by bike, scooter, carriage or dromedary to break the routine.

And + again! High Atlas, Ourika, Oukaimeden, Jbel Toubkal.
If you have more time, 1 or 2 day trips can be organized on a 4X4 circuit in the valley of Ourika and Oukaimeden less than 40km from Marrakech. You will enjoy the landscape of the valley of Marrakech with a sumptuous view. The village of Imlil is the starting point for treks to Jbel Toubkal, which is the highest point of the High Atlas. Be sure to have a guide to get you there and plan your water and food accordingly.
There are so many things to do in Marrakech that it is difficult to describe everything in a few lines but it leaves you the flexibility to do your own explorations and relax on sites as you wish. Hammams, restaurants, riads, breaks with mint teas or fruit juices accompanied by their tasty pastries, henna tattoos, tanneries, flea markets or herbalism. Marrakech represents a radical exoticism and a certain change of scenery that will delight you from the first moments of experiences at the gates of Europe.
---✈︎



Discover our Lightroom Presets for Mobile & Desktop.
Comments
Leave your comment