Exit Stamp Mixes | Our Eclectic Travel Mixes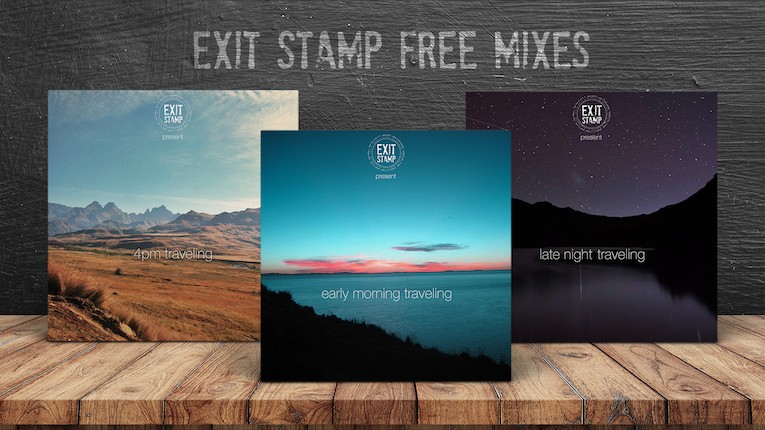 Need some good music to travel? Download our mixes for FREE and enjoy your trip wherever you go, whenever you go. Traveling by car in the morning, by plane the afternoon or a long night by bus will be just wonderful. Thinking about life and enjoying your adventure, let's just have fun. Get ready and press play. It's time to go.

Early Morning Traveling
Having a flight or taking the road this morning? A long way watching the sun rising this blue sky. Feeling sleepy but feeling good anyway? Here is the music you need to travel with. Enjoy the blue sky, your coffee and the early morning music session by exit stamp. Stream it right here or download it NOW for FREE and go away the farer you can. Yeah.



It's 4PM Traveling
You're excited because it's time to go! Jump on your car, your bus or your flight. Fast your f**** seat belt and let's start the journey by having good vibes and listening to the best music ever. Maybe it's hot out there, or maybe it's cold. No matter the weather to enjoy this trip with Exit Stamp, introducing to you this powerful and energetic Afternoon Traveling mix. Stream it right here or download it NOW for FREE and just go away.


Late Night Traveling
It's 2AM. Maybe you're in the middle of the mountains in South America, or maybe crossing a frontier far away in Asia... watching this dark sky where the moon is smiling to you. Feeling alone? or thinking deeply about the sense of the life. We know what you feel and that's why we've made this Late Night Mix for you. Enjoy it with here and download it for FREE !




| | |
| --- | --- |
| | |
---✈︎
Comments
Leave your comment