World Tour Budget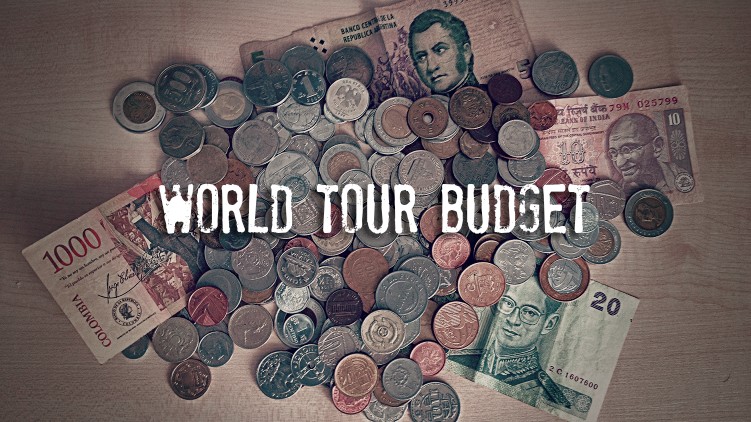 There is no need to be rich to go around the world and I would even say the experience is much more interesting and intense when traveling in "budget". It's difficult to define the cost of a world tour because everything depends on the area where you want to travel and the evolution of the economy that plays a lot in changing money.

To make it quick, I would say it takes ± $/€1000 on the spot per month when traveling in the Third World countries and the double more in the richest countries like USA, Canada, UK, Japan, Australia and part of Europe. When I say $/€1000, I include lodging, transport on site, visits of monuments, food by balancing restaurant and cooking as well as purchases like souvenirs or clothes. It is therefore a budget without depriving oneself, but without abusing hotels and expensive restaurants or air tickets to move in the continent that can plumb the piggy bank.

We will nevertheless try to define a basic budget per zone, without taking into account equipment or insurance. Either because we already have it, like the camera or the smartphone, or because we don't need it like the computer or the travel insurance. We don't count either the departure G/R ticket as it will vary according to the destination and the time of the year. We really limit ourselves to what is necessary for TRAVEL : visas, accommodation, food, transport, visit/tour, souvenirs...
Then, it's up to you to look for the vaccines you want to make, insurance you want to buy, and equipment you want to carry, knowing that you can also find it cheaper on the spot (like in Bangkok).
 
Latin America :
Latin America is easy to discover with a lot of road transport and many hostels, making it a continent where it will be easy for you to respect your budget. Despite a slight difference between some countries, you will spend on the continent between $/€20-40 a day.
 
** TIPS **
In Latin America and Asia, coaches are really comfortable to sleep at night and sometimes offer you a meal tray and a blanket. So prefer these nocturnal trips and save hotel nights !
 
Asia :
Asia is by and large the cheapest continent, off-set Japan and South Korea. From India to Southeast Asia, you can eat for less than $/€5 (dishes, drinks and tips included) and you can easily find beds in dormitory for less than $/€10 or private rooms for $/€20. You can spend your time on the continent for around $/€20 per day between accommodation, meals and activities. Between $/€30-40 for the most expensive countries like Japan.
 
** TIPS **
Opt frankly for youth hostels. Everything is there to welcome backpackers who all travel in a good spirit. Cheap night in bed dormitories, lockers to protect your stuff, equipped kitchens and often even, breakfast is included ! Although it may seem uncomfortable for a novice, it becomes funny to share bedroom, showers and lounge room. The sharing spirit sets in and we try to reach out to people and open up socially, even for the shiest ones.
 
Africa :
This may be surprising, but Africa is a continent where traveling is more expensive than Latin America and Asia for several reasons.
- First, safaris will blow up the budget of 1 month in a week. Indeed, it takes at least $/€1000 for 1 safaris week in Kenya or Tanzania (all inclusive) and this only for the main parks (eg : Masai Mara, Nakuru, Amboseli).
- Accomodation is another reason. Indeed where it was easy to find a dormitory bed for less than $10 throughout Asia or Latin America, the task is almost impossible here. There are almost no hostels on the continent except in the big cities of South Africa, and some neighboring countries. As a result, a reasonably good hotel room is $30 minimum and by accumulating nights over 6 months, the amount is off.
- A third reason can be that having a flight when crossing a border is difficult or impossible. Here as well, inevitably, the budget takes a hit if you have to take one or two flights. 


** TIPS **
Please note that the price of airline tickets and hotel / hostel nights also vary greatly depending on the time of travel. Plan in advance your travel periods outside school holidays if you can. Prices can be halved considering this condition as they can multiply when an important event takes place in the city such as the Rio Carnival or the Cordoba Feria in Spain

Europe :
Prices in Europe vary greatly depending on whether we visit the countries of the East ($/€10-20), the Latin countries ($/€20-40) or the Nordic countries ($/€40-90). Here a real difference exists between these areas but it's still possible to balance the budget using sites like Couchsurfing and transport side, I recommend using a maximum BlaBlaCar, which is usually half price of a bus trip but faster.
 
** TIPS **
Of course, enjoy restaurants in the countries you're visiting, but always think of rebalancing your budget by doing some shopping and cooking at the hostel whenever possible. Fill your bottles with water and plan on nibbling when you walk around the city. Any economy allows you to go further in the journey !
 
Oceania :
Oceania, considered a rich continent will not make you a silver level gift. The price of a bed also turns around $/€17-20 the night as the consumption of base which is sometimes more expensive than the European countries, about $30 for meals. Count daily expenses amounting to around $/€60 per day with visits, activities, transports...
 
After these few explanations, here is a small map built from a study made by the french site tourdumondiste.com on the daily budgets of each country. It was made thanks to the recent testimonials of travelers. You will find another map on a-contresens.net and I also recommend to consult the site or the books of Lonely Planet which regularly put the average budgets for each destination and to cross informations which interests you.


Anyway, going around the world is within the reach of all, it is enough to save every penny to allow it, no matter the job. Doing extra hours, avoid useless slamming and saving, saving and still saving. It's limiting yourself in spending money during the preparations to make the most of a unique experience that will be part of your personal story.

But basically, it's $/€1000 per month. ;)


---✈︎



Discover our Lightroom Presets for Mobile & Desktop.
Comments
Leave your comment