Tanzania + Zanzibar | The Travel Guide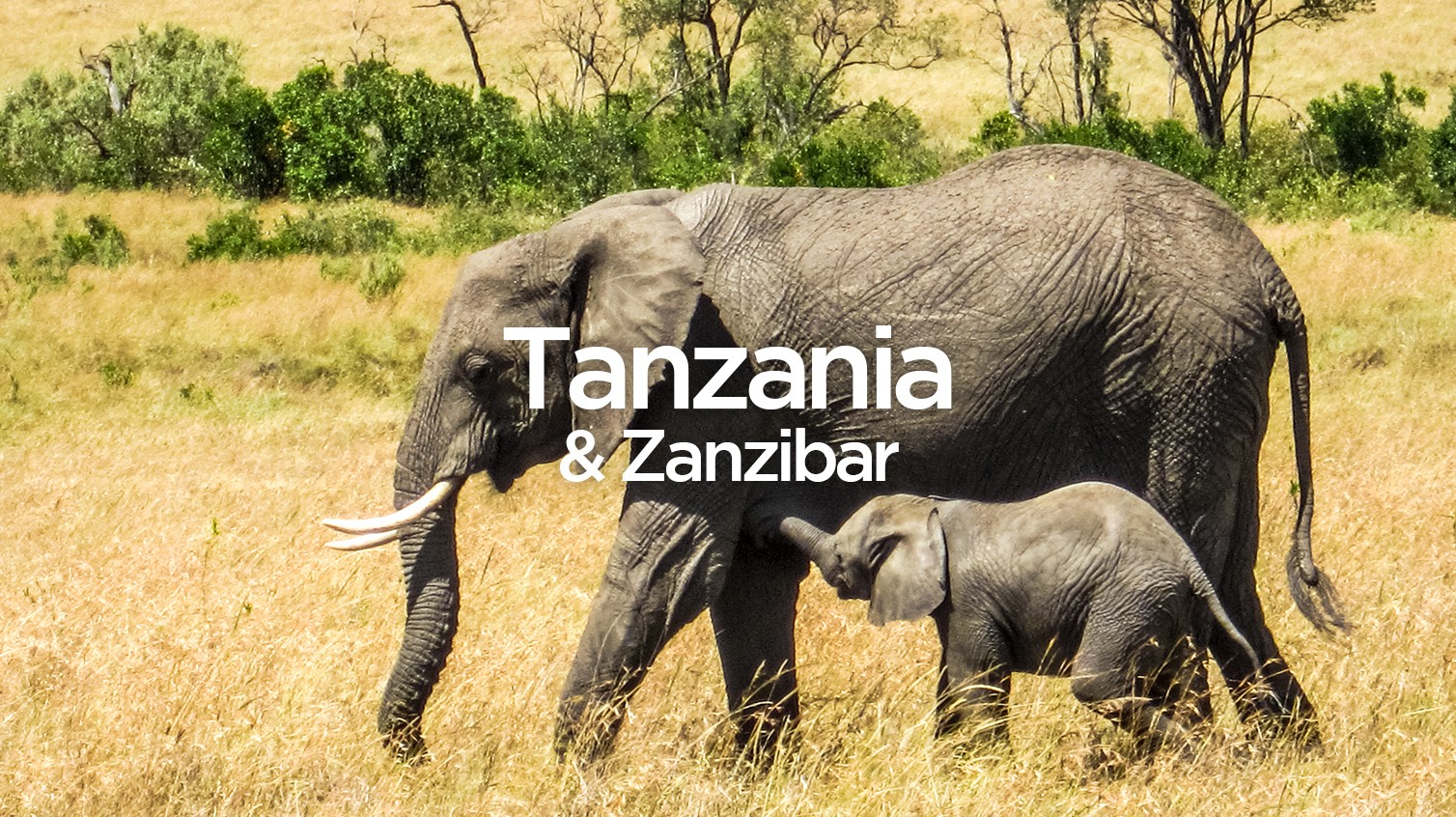 Another mythical land of Africa, Tanzania is a crossroads of various natural settings. From the heavenly beaches of the east coast or from Zanzibar to the eternal snows which guard Kilimanjaro, this country offers you incredible places such as the Ngorongoro volcano and of course its wildlife including the "Big Five" and its Swahili culture so anchored. Here we are, and here too, Hakuna Matata.


⤁ Backpacking Tanzania ⬵
• Travel tips • Places to visit • Itineraries •
↡

Budget : $60/€ per day. For a safari, count $1000 for a full week, accommodation transportation, and entrance to parks.
Currency : $1/€ = + - 2300 Tanzanian Shilling.
Visa : Visa for one month at the border for $50 or online at Action-Visas.com and Visas Express. Provide a passport valid for at least 6 months and 2 blank pages minimum.
Sleeping : $40/$60 for a single/double room.
Transportation : About $ 15 for a bus day, the roads are in pretty good conditions.
Food : Pilau, Ugali, Ndizi Nyama, Wali Na Maharage, Wali Wa Nazi
Weather : Wet from March-May and Nov.- Dec. Dry in June-August. Around 20 ° C.
Religion : Christianity and Islam.
The people : Very friendly and smiling as everywhere in Africa.
Music : Benga, Kikuyu
Language : Swahili, English, tribal languages
Lexicon :

Hello
How are you ?
I'm good and you ?
Please
Thanks You
Goodbye
No problem (very used)
Jambo
Habari yako
Mimi ni nzuri na wewe?
Tafadhali
Asante
Bye nzuri
Hakuna Matata
Dar es Salaam (3 days): National Museum - Village Museum - Fish Market.
Like many coastal cities in Kenya, Dar Es Salaam is an excellent mix of Africa, Arabity and Indian influence in which its streets will keep you busy for a few days. The National Museum, very modest and very interesting, however, exhibits a small collection of vintage cars and many objects and photographs dating from the colonial and precolonial era, including the Arab slavery era. The open-air Village Museum is located 10km north of the city center and offers authentic performances of traditional life from different parts of Tanzania as well as traditional dance shows. For a good dip, go through the Fish Market on Ocean Rd while strolling through the city.

** TIPS ** :
Before booking your safari in Kenya or Tanzania, TAKE INTO ACCOUNT THE MIGRATION OF ANIMALS according to the TIME you travel. Indeed, the animals are found rather north of the hemisphere, so in Kenya between July/August and November. From December to June, they migrate further south of the hemisphere, (Tanzania). You will see many more by taking this parameter into account.
Moshi / Arusha (7 days): Mt Kilimanjaro NP - NP Serengeti - Ngorongoro NP.
Moshi and Arusha are two small towns that are the starting points for the country's main national parks, Moshi being often cheaper.
Kilimanjaro is the highest peak in Africa with 5896m and one of the most sumptuous places on the continent. But getting there is expensive and you have to go with minimal preparation. Admission is $60/day, a hut is $50/pers./day and Kili can only be walked with approved guides. It is therefore only with tour operators that this ascent, even at the lowest level, can be done. Your hotel will have all the information about it, if it doesn't organize one of these tours itself.
From Arusha, a growing city, you'll find many tours to Serengeti, the safari's best known park in the country, which continues to Kenya's Masai Mara National Reserve. The Ngorongoro crater also offers a high concentration of wild life, in addition to being able to camp there. You will see lions, elephants, buffaloes and flamingos and may also be black rhinos. The doors open from 7am to 4pm. Unique experience of its kind.

Mwanza - Lake Victoria (2days): East Seregenti - Sukuma Tribe - Rubando Island NP.
Mwanza is the economic center of Lake Victoria and also the starting point for the western part of Serengeti. The surrounding area is the heart of the land of Sukuma, the largest tribe in the country. You can organize a tour to Rubando Island National Park where you can find the famous Lake Victoria, formerly sailed by Commander Che Guevara.

Kigoma (2days): Lake Tanganyika – Gombe Stream – Mahale Mountains NP.
Kigoma, which is at the end of the central train line, has the largest port on Lake Tanganyika. It is also from here that visits to Gombe Stream and Mahale Mountain NP depart. These two parks are sanctuaries for chimpanzees but you will also find in Mahale beaches with white sands whose background is made up of a mountainous forest. An exquisite mix.

Zanzibar (6/7 days): Stone Town (3d) - The beaches (3 / 4j): Nungwi, Kendwa, Paje...
From Dar es Salaam, you have ferries to Stone Town, Zanzibar Island (2h), where you will have to show your passport for one more stamp. Awesome ! This island is also a tasty mixture of Africa, the Arab world and India and it is also the native island of Freddy Mercury, singer of the English group "Queen". Stone Town is cool, a real labyrinth to go by stopping sometimes in a bar in the city, sometimes in a local artcraft shop. Pass through the Zanzibar National Museum of History & Culture in Beit el-Ajaib (House of Wonders) which has an exhibition on Swahili civilization and the history of Stone Town. The Beit el-Sahel which was a palace is now a museum dedicated to the era of the Sultan. The Anglican cathedral was built on the former site of the slave market which still today, some cells testify to this time. Depending on your pace or your desires, I advise you to choose one or two beaches on which to spend a good time and relax after all these days of travel and expeditions. On the program, dive or wade in water at perfect temperature. Tanning, chilling, Hakuna Matata like we say. For that, look at your map of the island, point your next destination and go in dalla-dalla (kind of minibus/pickup). Choice: Nungwi, Kendwa, Page and so many more possibilities...

Outro :
Tanzania as its neighbor Kenya is an expensive destination but it is still possible to discover for a lambda backpacker. So prepare your trip as best as possible, knowing that there will always be unforeseen events. The quoted route and durations are indicative, including travel days, and you can of course modulate them as you please. So be prepared (here as well) to live intensive days, (you're here for that !) to then relax off the islands of the Indian Ocean. Cushy. Hakuna Matata I'm telling you !!


---✈︎



Discover our Lightroom Presets for Mobile & Desktop.
Comments
Leave your comment