Italy | The Travel Guide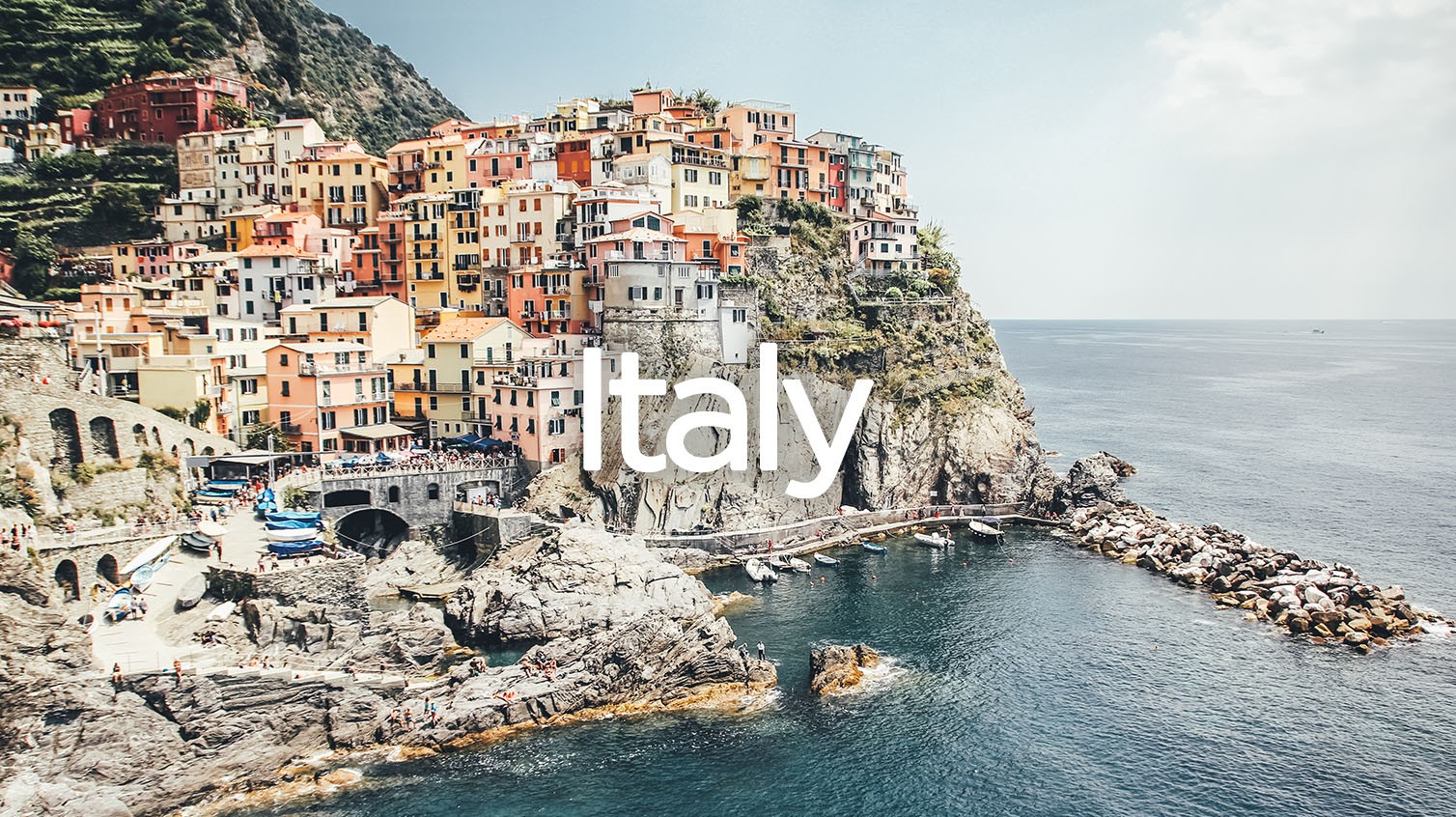 Cultural heavyweight of Europe, artistic crossroads of the Mediterranean sea, Italy is a classic for any traveler. Grouping masterpieces, millenary ruins and breathtaking landscapes, this is a destination that will make you travel in the past. On an air of Opera or Italian jazz, an espresso in the hand or oi a Venetian gondola, let yourself be carried away by the charm of Italian culture.


⤁ Backpacking Italy ⬵
• Travel tips • Places to visit • Itineraries •
↡


Budget : 50-90€ per day/person
Currency : 1€ ≈ $1.
Visa : 90 days for most NON-UE nationalities for all the Schengen Area.
Sleeping : 15/35€ for a bed in dormitory. 40-70€ for a single / double room in hostel.
Transportation :  ~ 20€ for bus trip, ~ 30€ for train.
Food : Pastas, Pizzas, Great coffees, Smoked Ham...
Weather : Hot from April to October. Colder from Nov. to March.
Religion : Mostly Christianity
The people : Italians
Music : Italo Pop, Italo Disco, Jazz...
Language : Italian
Lexicon :
Hello
How are you ?
I'm good and you ?
Please
Thank You (very much)
Goodbye
Ciao
Como stai ?
Sto bene, e tu ?
Per favore
Grazie (mille)
Arrivederci



Milano (2/3d) : Il Duomo - Galleria Vittorio Emanuelle II - Castello Sforzesco & Parco Sampione - Il Cenacolo Vinciano (Leonardo's last Supper).
Milano, the national capital of fashion, is that kind of city that we live more than we visit. It has few monuments, but these are still marvelous. So take a morning to visit Il Duomo, from its depths to its summit, enjoying a view of the city and the Galleria Vittorio Emanuelle II. Gallery housing many luxury shops but it's worth to see and browse for its architectural richness. A little further north you will find the Castello Sforzesco and its Sampione Park which offers a soothing walkway. In the church of Santa Maria della Grazzie is the famous Last Supper of Leonardo da Vinci still in very good state of conservation. BOOK your entrance ticket IN ADVANCE ! Take advantage of the time left to wander through the streets of this cozy city, along the shops and coffee shops, especially on Via Torino and Corso Di Porta Ticinese, which will take you to the Navigli district, always packed with people and good Milanese vibe !

Venice (3d) : Piazza San Marco, Basilica & Campanile - Ponte di Rialto - Gondola ride – Murano.
Aaaaahh ... Venice ! How to tell you ? Amore Mio ! What an incredible, unique city, so enchanting despite the maddening mass of tourists that spoil the wonder and soul of this city. But, anyway... This is Venice ! The classics of the island are the Piazza San Marco, armored from morning to evening as well as its basilica and its bell tower (Campanile). The facade and the interior are wonderful, offering a 360 view of the entire city. The Ponte di Rialto is also a point of concentration, but test it for few pics on the Canal Grande. I would say that the most pleasant thing is simply to get lost in the city with or without a predefined destination. Wandering the streets and discovering its many chapels, squares, bridges and real inhabitants is a pure moment of relaxation, staying away from the tourist mass. And come on ! Let's be crazy ! Give yourself a ride of 30min in a gondola (80 €), you are there for that too. If you have more time, move away from the center to visit the Murano and Lido Islands, which will offer you many tourist shops and a small beach to relax.

Florence (3d) : Piazza del Duomo - Galleria dell 'Academia e Galleria Ufizzi - Piazzadella Signiora - Ponte Vecchio - Piazzale Michelangelo.
Firenze is the artistic capital of the country, and of medieval Europe. All the big names in the country have been here, like Da Vinci, Raphaelo or Michelangelo. The Piazza del Duomo includes several monuments to discover including Il Duomo itself, Cathedral di Santa Maria del Fiore, Campanil di Giotto and other basilicas and chapels. On the art side, do not miss the Galleria dell 'Academia and Ufizzi, which display works by Renaissance artists. Via Via dei Calzaiuoli and Piazza della Signiora, head towards Ponte Vecchio, which you will immediately recognize by its architecture and vintage-looking jewelery shops. While crossing it, find the bus stop 8 or 9, to reach you at the end of the day in Piazzale Michelangelo where you can relax, while contemplating the panoramic sight on all the city during the sunset. Relaxing and majestic. Ideal for chill.

Pisa (1/2d) : Piazza del Duomo & the Leaning Tower.
From the train station to the famous tower, follow Corso Italia that offers a friendly, commercial and traditional avenue, however, take your time to browse and take pictures on your path. Arriving at Piazza del Duomo, you will be facing the Leaning Tower of Pisa and Santa Maria Cathedral. Of course, take your snapshot that holds the tower and enjoy to climb to the summit, visit the cathedral and the baptistery. For those who are hurry, 4 hours are enough to go, admire and return quietly and then taking probably another train to another destination. For others, the rest of the city is still a spectacle to be covered on a whole day.

Cinque Terre (3d) : Riomaggiore - Manarola - Corniglia - Vernazza - Monterosso al Mare.
You must first arrive at the La Spezia station to then go to Cinque Terre. A true postcard of Italy, Cinque Terre is a place to rest and escape. Drop your luggages in one of these 5 villages and you can later, with a special train ticket, move as many times as you want for 48 hours. The villages are small, constricted on themselves, uphill and downhill and usually with a main way. Beautiful pictures can be made especially for the sunsets on Riomaggiore and Manarola. Treks are organized to go from one village to another by the mountain and boats are also proposed to go there by the sea. Two days are enough to have a glimpse but once we are there, we really want to stay there. Get prepared of that !


Rome and the Vatican (5d) : Il Colosseo and Foro Romano - Fontana di Trevi - Il Vaticano e Basilica San Pietro.
For more information on Rome and the Vatican, read our full article just HERE !

Napoli (5d) : Capri - Scavi di Pompeii & Vesuvio - Sorrento - Positano - Amalfi Coast...
Naples is just the opposite of the cities we saw in the north of the country. We feel here an atmosphere of an abandoned city or less well maintained by its buildings, dirty and destroyed. It is however this popular atmosphere that charms the visitor and holds us here a few days in order to feel a deeper Italy dragging on the side by Via Toledo and Piazza Dante as well as continuing by the small but long Via Tribunal that brings us closer to the brand new Piazza Garibaldi and the train station. Do not forget to visit the magnificent Palazzo Reale, the Galleria Umberto and along the Golfo di Napoli by Via N.Sauro & Via Partenope. You will have a view on the Vesuvio far away.


You can go on the island of Capri and Annacapri for a day if you feel it where you will enjoy a nice ballad on the island but very chic and very touristy.


A day will also be necessary for the ruins of Pompei and Vesuvius, Sorrento, Positano and Amalfi. For each destination, you can go and come back from the train station in which express trains of 45-50min are offered anyway. Then you can organize your visit as you like knowing that information stations are located at each destination to better guide you. More expensive option in term of hotel but also more pleasant : move from city to city, day after day until your final point. The whole Amalfi coast is superb to see and enjoy, so it's up to you to choose.


Puglia (7d) : Bari - Alborobello – Lecce.
In the Apulia region (Puglia), join Alborobello or Lecce (or both) passing by Bari. The first city, atypical, is unique in the world with its small houses called "trulli". It will disorient you from the rest of the country. Lecce has a more Baroque architectural style and more classical monuments with its Piazza Sant'Oronzo and its Roman amphitheater, the Duomo Square and the Santa Croce Basilica known for its façade with fruit and flower motifs.

Sicilia (7d) & Sardegnia (5d) :
These two islands and region of Italy are reachable by the port of Naples or by the tip of the boot. In Sicily, whether in Palermo, Catania or Syracuse, there are many sites, be they royal tombs, the valley of Greek temples, Byzantine mosaics, ancient theaters or Etna, volcano located in East, still active.


In Sardegnia, we go especially for the landscape that the island offers such as Cala Goloritzé, Cala Luna, Grotto Neptune or Cape Gaccia for hiking or to enjoy the beaches.

Outro:
Of course the days and the proposed way are indicative. Italy, like so many European countries, are full of historical and cultural places to contemplate and it's sometimes difficult to choose. It all depends on the activity we are looking for, but also time and budget.
But anyway, Italy undoubtedly amazes, rich of its deep catholic culture, of its imperial Roman history, of its art, of its theater, of its more varied music than one thinks, not to mention its cuisine and local products. A machiato espresso in the mano. MA COMO ?! Enjoying "piano piano".


---✈︎



Discover our Lightroom Presets for Mobile & Desktop.
Comments
Leave your comment