Hong Kong + Macao | The City Guide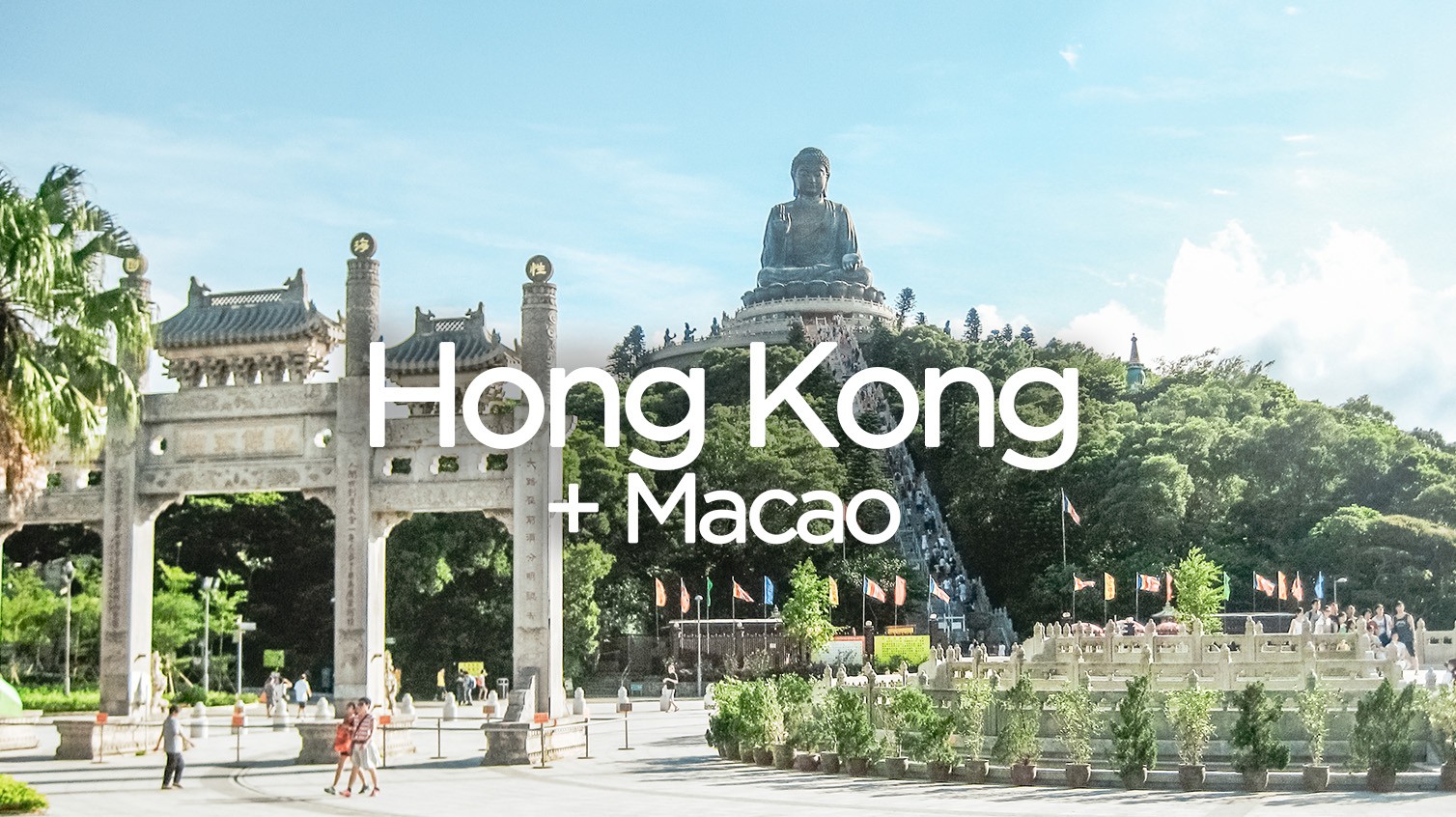 Hong Kong. The Asian New York. Highly strategic financial point but in the midst of its long towers and grand boulevards, this futuristic city has still managed to retain a part of tradition with its many temples. Ultra dynamic, it's the fusion between Chinese culture and the English western world.

HK Island : Manhattan - Bowen Road - Victoria Peak.
First of all, the central district of the city named… Manhattan whose atmosphere strongly reminds NYC with its towers, its streets, its dynamism and its busy population. Many streets and neighborhoods in which to wander to feel the Hong Kong vibe like Hollywood Road or SoHo for its bars and restaurants. Here we live the city. Take the height with the longest outdoor escalators to reach the Mid-Levels and Bowen Road, a quiet forest away from traffic noise, 4km from Central to Causeway Bay and which already offers a beautiful view of the city towers. Continue the climb and head for the highest point of HK with The Peak (or formerly Victoria Peak) to have a global view of the island. You can get there walking, for the more athletic, by bus or in a 120-year-old tourist tram which was once a mean of transport for the inhabitants of the hill, from the Garden Road Peak Tram Lower Terminus, near Hong Kong Park (45HK $ = 5 € A / R). At the top of the Peak, there is the Morning Trail, a path that leads even higher to the Victoria Garden where you will have the best views of all of HK. A good place to appreciate a sunset.

Kowloon : Tsim Sha Tsui & Nathan Road - Avenue of the Stars - Kowloon Park - Kowloon Walled City Park - Sik Sik Yuen Wong Tai Sin Temple - New territories.
Let's start with Tsim Sha Tsui, the southern district of Kowloon and its main avenue, Nathan Road, crowded from morning to evening with its many shops. Here you also breathe the city atmosphere of HK and let yourself be lost for a few moments to join Kowloon Park, the green lung of the neighborhood. During your walk, you may pass in front of St Andrew's Church and the Kowloon Mosque. It will take you about twenty minutes to cross Kowloon Park and join the Tsim Sha Tsui ballad on the south quays of Kowloon and thus have a front view of Honk Kong. This avenue is home to the Avenue and Garden of the Stars with statues of Hong Kong artists, including the Bruce Lee statue. Remember to come (back) by night because it's from here that you can see the HK light show in which the towers light up in rhythm with some music.
Go back to a little tradition with Kowloon Walled City Park, a garden that has preserved the remains of an ancient fortified city, destroyed during the Japanese invasion. You'll find statues of the Chinese zodiac signs and many small temples as well as the Hau Wong Temple just minutes away. The Sik Sik Yuen Wong Tai Sin Temple is dedicated to the most common religion in China, Taoism. Chinese zodiac statues and a relaxing garden make this place an interesting detour despite a certain tourist mass.
If you have more time and want to think outside the box, head to the new territories of Hong Kong to trek and see traditional markets.

Lantau Island: Ngong Ping, Big Buddha & Po Lin Monastery - Tai O Village.
Lantau Island, the other big island in HK, is home to the Tian Tan Buddha and the Po Lin Monastery, both located in Ngong Ping Square. Unmissable attractions, all in a setting of greenery and absolute calm. (Excluding tourists!) Also pass by Tai O, a small fishing village on stilts whose radically different atmosphere rather reminds us of the countries of South East Asia. To get there from Ngong Ping : Bus 21 to the terminus (15HK $). So close and at the same time so far from the modern world.

And more :
Take time to stop at the many markets of HK, whether in Mongkok or Tsim Sha Tsui, live the night in the many bars or club that the city offers, drag your shoes in the nooks and get lost between the towers and shopping centers where you can find a lot of curiosities. A perfect transition for a Asian tour if you go from China to Vietnam for example (or vice versa).
But while you're at it ... Go for Macau!
------✈︎


MACAO :
Macau was a Portuguese colony until 1999 and the Lusitanian imprint is still very strong there with its many churches, azulejos, its "calçada portuguesa" (this black and white paved floor) and street names both in Chinese and Portuguese. A unique blend ! For the visit, this is what to see in 2 days or more, for those who want to stroll there.

The Ruins of St Paul - Senado Square - Casa do Mandarim - A-ma Temple - A-Ma Cultural Village - Macao Tower.
In the top list of course, The ruins of Saint Paul are in the city center and its facade is a symbol, located at the top of many steps. Lots of tourists congregate there, so I recommend going there in the morning. Nearby, Senado Square is one of the liveliest streets in Macau, and it feels like you are in Portugal with its buildings and calçada. The mixture is excellent with decorative elements of the Asian style. Exotic.
Spending about ten minutes away, you will find the Casa do Mandarim (Mandarin's House), a historic residential complex dating back to 1869 located in São Lourenço and which has preserved a fusion architecture between the Cantonese and Western styles. A serene moment to enjoy as a trip to the past. Free admission. BIM.
Let's stay Zen with the Temple of A-Ma, symbol of Chinese culture in Macau and dating from the 16th century and a little further, at the A-Ma Cultural Village for more temple and relaxation. Opt for a taxi to go to the village which is further out.
Macau is also known worldwide for its casinos, the towers of which you can see protruding from different parts of the city, and know that this is where the world's tallest bungee jump is located, at the Macau Tower. Just in case you feel like you wanna jump into space… like that.

Macau is an original and exotic city at the same time by its mixture of Asian-Portuguese culture very present but also by its modernity while preserving many space with the tradi atmosphere. Allow 2-3 days for your visit, and an exotic getaway less than an hour by ferry from Hong Kong.
Exit To Hong Kong - The Mix :
For even more immersion in the city, grab our mix concocted by Denize Rei with a selection of funk, disco and movie soundtracks specifically from Hong Kong. Just listen here and download THERE!
---✈︎



Discover our Lightroom Presets for Mobile & Desktop.
Comments
Leave your comment