Brazil | The Travel Guide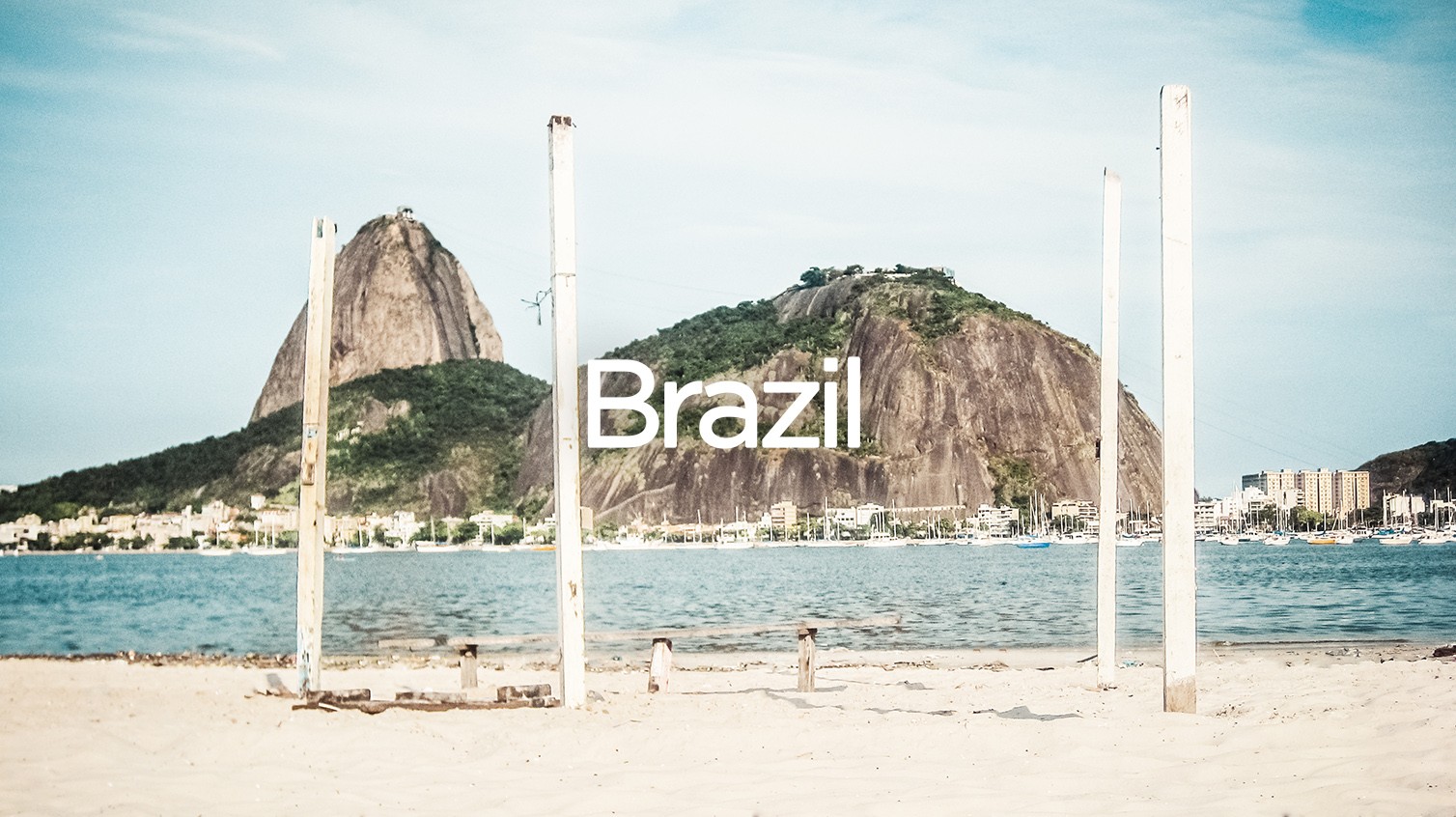 Brazil is a strong emotional shot that will mark you throughout the trip. Incredible landscapes, unthinkable encounters and crazy situations. It's a land of extremes where poverty and hard-hitting violence reign, both festivity and intense joie de vivre. Music everywhere, dancing everywhere, there will always be an event around the corner to draw you in. From heavenly beaches to the famous Amazon jungle, you will experience 360° emotions in this CRAZY country.


⤁ Backpacking Brazil ⬵
• Travel tips • Places to visit • Itineraries •
↡

Budget:  30 $/€ per day
Currency: 1 € / 1US $ = 6.7BRL (Brazilian Reais)
Visa: No visa, 90 days for most passports.
Sleep: 10-60 $ / € bed in dormitory / correct double room
Transportation: $ 8 / € for a Rio / São Paulo ônibus (6.15 hrs)
Food: Feijoada, Bobo do Camarão, Lulas recheadas, Empadinhas, Coxinha, Açai, Cachaça
Weather: Hot from November to May, cold from June to October.
Religion: Christianity for the great majority.
The people: Brazilians of European origin, Afro-Brazilians, Amerindians, Brazilians of Asian origins...
Music: Bossa Nova, Samba, MPB, Forró, Funk, Funk carioca, Rap,
Language: Brazilian Portuguese and 170 indigenous languages.
Glossary:
Hello
How are you?
Good and you ?
Please
Thank you (Very Much)
Goodbye
Olà / Bom dia
Tudo bem?
Tudo bem e você?
Por favor
(Muito) Obrigado
Adeus

 ** ROUTE TIPS **
As in all of our articles, we try to imagine a coherent route that allows both to see the most important places of the country while maintaining a logical route for travelers who want to get from point to another. So there is no order of preference or importance here but a course going from Salvador de Bahia, continuing south along the coast then up through the center and ending the loop on the northeast side.

** TRANSPORT TIPS **
Like everywhere in South America, the best means of transportation are coaches whose seats recline almost completely to sleep comfortably. The distances between cities are long, so prefer overnight trips which will save you hotel nights and you will arrive at your destination the next day in good shape. It is accessible to all budgets, we provide you a blanket and a meal tray like in airplanes. Like a king !




Salvador De Baia (2 / 3d) - Parque Nacional da Chapada Diamantina (2d) :
Let's start our tour of the country with the cradle of Brazilian culture, Salvador de Baia, where Portuguese and African traditions (especially Angolan) blend in both architecture and gastronomy. It is one of the most beautiful cities in the country, very colorful, very dynamic with a multi-ethnic population. Do not miss O Pelourinho, this centro historico listed as a UNESCO World Heritage Site, A Praça Dinha in the Rio Vermelho district, the mercado de Salvador by taking the Lacenda lift, the Barra lighthouse as well as the beaches of Itapua. If you can be there for the carnival, that's a plus!

Also in the region of Bahia, O Parque Nacional da Chapada Diamantina is a superb park to discover by hiking through its hills and plateaus. There are several caves to visit including O Poço Azul in which you can bathe in electric blue and transparent water. There are also numerous waterfalls and inland beaches. The park takes its name from its many plateaus (= Chapada) and its past diamond mining (= Diamantina).




Brasilia (2/3d) :
Let's stop at Brasilia, a futuristic and very recent city, which became the political and administrative capital of the country in 1960, thus taking this title from Rio. Here all the monuments are very modern like the Cathedral of Brasilia, A Torre da televisão for its view over the city and the Eixo Monumental with its many attractions. Also the National Congress, the JK Memorial (of President Juscelino Kubitschek), the Palácio da Alvorada (the Presidential Residence).
To the north of the city is the Parque Nacional de Brasília, where locals meet at weekends and which features natural pools, and endangered species including maned wolves, giant armadillos and deer. You can also end up at the Santuário Dom Bosco, Muséo Nacional and Centro Cultural Banco do Brasil for temporary exhibitions.




Ouro Preto (2d) - Tiradentes (2d) :
In the region of Minas Gerais lies the very charming town of Ouro Preto, a UNESCO World Heritage Site. Colonial-style town with white houses and cobbled streets, built in 1711 and very popular with gold diggers in the middle of an imposing forest. You can visit the old mines to trace the history of gold in the region and do not miss to pass by the 10 baroque-style churches that can be found all over the city.

Tiradentes is a 6 hour bus ride from Ouro Preto and is a perfect stopover if you like small old-fashioned villages with that real Brazilian soul. Colorful houses, cobbled streets, colonial churches and architecture, Tiradentes was also an ideal stop for gold diggers in the region due to its geographical location. You will pass during the visit by a magnificent fountain, symbol of the city as well as the Padre Toledo Museum to learn about the independence of Brazil.




Rio De Janeiro - Ilha Grande - Paraty & Costa Verde :
For more information on Rio and its surroundings, see our article HERE or by clicking on the image!




São Paulo (4/5d) :
We continue through the economic capital of the country but also the largest and most dynamic city, São Paulo. A very urban city with its many buildings but also very cultural with its art museums, the football museum, the Afro Brasil museum, the cathedral and its abbey. Avenida Paulista is a main thoroughfare leading to the main points of interest. On the natural side, the city also has a botanical garden and Parque da Luz and Parque Ibirapuera. The night São Paulo is very lively and is filled with bars, restaurants, clubs of all styles to discover.




Florianópolis & Ilha de Santa Catarina (4/5d) :
Florianopólis, located on Ilha de Santa Catarina is the favorite destination of Brazilians and is renowned for being the city where it is best to live in Brazil. Here, on the town side, you can see the cathedral, the municipal market, the Palace and its fortresses which tell us the history of the island. We advise you above all to escape everywhere on the island to discover its beaches, forests and lakes, all in a truly peaceful atmosphere.




Foz do Iguaçu & Cataratas de Iguaçu (2/3d) :
This is a MUST DO of the country and the continent on the triple border with Argentina and Paraguay. Without doubt the most beautiful waterfalls you will see in your life, the Iguaçu Waterfalls. You will need to get to the small town of Foz do Iguaçu, which is not particularly beautiful but still a pleasure to wander around. You will need to take a shuttle to the waterfalls and enter this park. I recommend a good afternoon to savor the different points of view and to stay until sunset to have that orange side on this wonderful landscape. Also, you can buy a ticket for a boat ride to approach the immense Garganta do Diabo, the fiercest of waterfalls.

It is important to note that the Argentinian side is renowned for having better vantage points with many more walkways along the waterfalls. So give yourself one more day to cross the border and enjoy the show twice. Many shuttles organize the return trip. That being said, the Brazilian side is still very spectacular.




*** Many travelers crossing South America, cross the border here to continue their tour in Argentina. Many buses leave from the city of Foz de Iguaçu to reach Buenos Aires or all the cities of the north with or without connection. You can do this by following our article "Exit To Argentina". ***


For the others, we resume our tour of Brazil going up the country!


Pantanal National Park :
The Pantanal is the most beautiful nature reserve of wildlife in the country but also the largest marsh in the world. Virgin landscape, in which we can see jaguars, monkeys, sloths, parrots, toucans, iguanas or caimans and certain endangered species such as the anteater or the giant otter. An obligatory passage for nature lovers.




Belém, Manaus & the Amazon rainforest :
Big chapter of the country, the legendary Amazon rainforest with its lush flora and fauna, its different communities cut off from the world, its still unexplored places and its mythical river, the Amazon. It is beautiful and well here in a land of adventure and to get there you will have to stop in Belém or Manaus, the two big cities of the region. In these two colonial-style towns, you will find points of interest such as museums, theaters, the BioParque, O muséo de paléontologia or natural sciences. Once you have toured these two cities, many excursions are offered by car or boat for several days in the heart of the Amazon with local guides who will teach you a lot about this entire region of the world.


Lençois Maranhenses National Park - Jericoacoara - Fernando de Noronha Archipelago:
Return to the coast with O Parque Nacional de Lançois Maranhenses, a unique and exceptional place in Brazil. Here numerous white sand dunes sculpted by the wind surround freshwater lagoons, all offering us a view of the Atlantic Ocean. Idyllic, paradisiacal setting spread over 30km by 50km. We travel through the park in a 4X4 in pursuit of these small lakes in which to take a dip in this immense heat. To access the park, you will first need to stop at either the smaller but equally charming town of Barreirinhas or Atins.

Jericoacoara or "Jeri" is a small seaside resort 300km from Fortaleza, accessible only by 4X4. It is the ideal place to chill out on white sandy beaches and freshwater lagoons, crossing fishing boats and wild animals. Several activities here such as sandboarding, windsurfing, paddle boarding or horse riding or quad biking. Perfect for getting off the beaten track.

The Noronha Archipelago is a UNESCO World Heritage Site and is a model of ecotourism, allowing only a limited number of visitors per day. Nature is varied : tropical forest with a varied flora and fauna, sumptuous beaches with transparent waters that attract dolphins and turtles. It is also a famous place for diving due to its ecosystem. You can reach the archipelago either by boat or by plane (preferable because it is faster), the island being 545km from Recife and 360km from Natal.




Recife & Olinda :
Let's finish this tour in the Pernambuco region with Recife and Olinda, famous for the folklore during the carnival. Recife is also called "the Venice of Brazil" with typical Portuguese and Dutch architecture and very colorful houses. The Recife antigo district will teach you a lot about the region and its traditions such as the Muséo do Pernambuco.

Olinda is a small multicolored village next to Recife, a UNESCO World Heritage Site, which should not be missed if you are in the area. On the coast, Recife will satisfy you with heavenly beaches to chill out a few days after this incredible journey.




And more :
We are dealing here with a country of the size of the European continent, so we might as well tell you that we are still far from having explored everything despite the immense loop offered here. If you have more time ahead of you, don't hesitate to make more than one stop between each destination. Belo Horizonte, Fortaleza, the Rio Grande Do Sul region or even the depths of the Amazon on the borders with neighboring countries.
Come on, come back, think of this trip as a unique tour of the country or if you do it as part of a tour of the continent, think of the different outings to Argentina, Uruguay, Paraguay, Bolivia, Peru, Colombia, and all of its other neighbors. One destination calls for another, a meeting invites us elsewhere, so it is with the magic of travel.




Outro :
Brazil is a multicultural country with Portuguese, Angolan and Indian influences that are felt throughout the country. A joie de vivre, creativity and constant festivity, Brazilians are very warm and will welcome you without expecting anything in return. Get ready for immense spaces and incredible wildlife, get ready for dynamic cities, get ready for the celebration and the discovery of the largest country in Latin America which will fill your head and heart with this famous "Saudade" from a place to another place.


Exit To Brazil - The mix
We have prepared an incredible hour-long mix of Brazilian music for you to listen to on the long roads of the country. From Bossa Nova to Samba via Forró, Rap and MPB, enjoy these classic or obscure pieces of the country by sinking comfortably in your seat. To discover soon !



| | |
| --- | --- |
| | |
---✈︎
Comments
Leave your comment