Thailand | The Travel Guide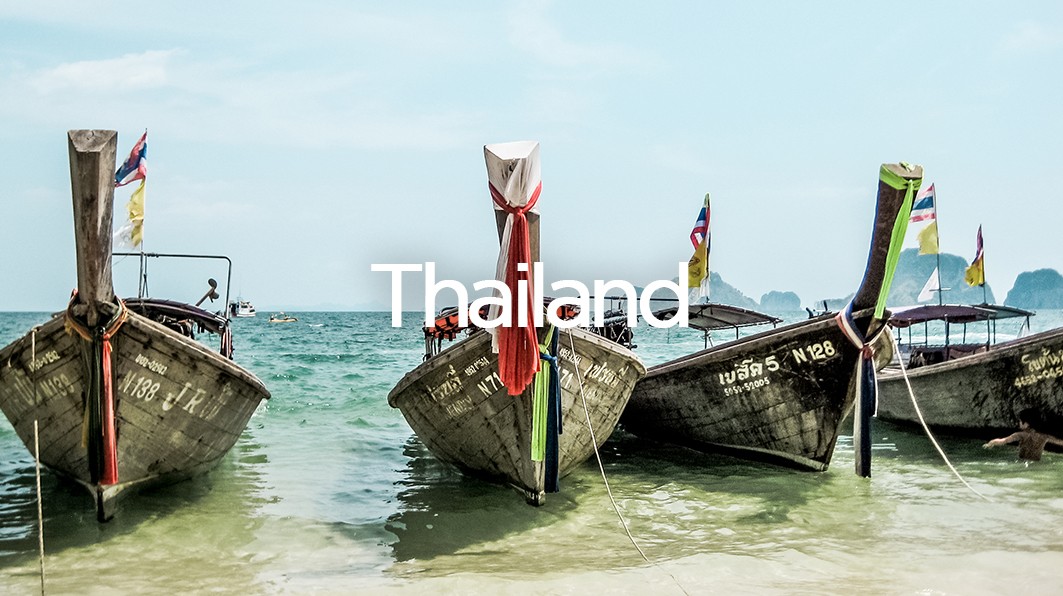 Welcome to the Kingdom of Siam! Thailand is a classic for anyone who starts a tour of Southeast Asia or during a world tour. Dream beaches, green nature, mystical and relaxing atmosphere with its numerous Buddhist temples. The land of smiles will fill your soul and your spirit from the very first moments.


⤁ Backpacking Thailand ⬵
• Travel tips • Places to visit • Itineraries •
↡

Budget : 20$/€ per day
Currency : 1€/1US$ = 37 Baht
Visa : Visa, 30 days for most passports upon arrival at the airport
Sleeping : 5-40 $/€ bed in a dormitory / proper double room
Transportation : $15/€ for a Bangkok / Phuket bus
Food : Pad thai, Khao Pat, Kan Man Kai, Pat Krapao, Kaeng Phed, Tom Kha Kai, Tom Yam Kung,
Weather : Hot from November to May, wet season from June to October.
Religion : Buddhism for the great majority, Muslim in the south.
The people : Thai Siam, Hmong, Lahu, Karen, Akha, Lisu...
Music : Thai Folklore, Traditional music, Funk, Roc and Hip-Hop...
Language : Thai, Isan and English.
Lexicon :           
Hello
How are you?
I'm good
Thank you
Goodbye
(H) Sawatdee Khrap / (F) Sawatdee Ka
(H) Sabay Dee May Khrap ? / (F) Sabay Dee May Ka ?
(H) Sabay Dee Khrap / (F) Sabay Dee Ka
(H) Kop Koon Khrap / (F) Kop Koon Ka
Lakorn

** TRAVEL TIPS **

As in all our articles, we try to imagine a more or less coherent route that allows us to see the most important places of the country while keeping a logical route for travelers who want to go from one point to another.
Here, we will start with Bangkok, the capital, which is a hub of Southeast Asia, then discover the beaches in the south and continue to the north and then to the east of the country by passing through several stages without order of preference or importance. Everyone is free to adapt his or her route according to his or her desires, his or her position of entry and/or exit of the country. (ex: towards Laos, Cambodia, Malaysia...)
** TRANSPORT TIPS **

As everywhere in Southeast Asia, the best means of transportation is the bus, whose seat sometimes reclines almost completely to sleep comfortably. The distances between cities being long, and the roads sometimes very bad, prefer night trips which will save you nights in hotels and you will arrive at your destination the next day in good shape.

Bangkok (7d): Royal Palace - Wat Arun - Wat Pho - Golden Mount - Chinatown - Siam...
Let's start our discovery of Thailand with its capital, Bangkok, a huge city, very active, very modern but having kept a lot of its tradition with many temples, markets and small streets with typical Asian architecture. A perfect mix between the new and the old. A perfect 50/50. As I often say, a capital city of this size, you have to visit and live it! So take a big week here and settle down on the side of Khao San Road, in the center, to be close to everything. It is a very touristic area but you will have everything at your disposal : hotels, bars/restaurants, various shops, agencies for tours or to buy bus tickets for other destinations.
The Royal Palace (or Grand Palace), Wat Arun, Wat Pho, Golden Mount, Chinatown, the Siam district with many shopping centers. Also take time to breathe the atmosphere of the city along the Chao Phraya River, the tuk-tuk rides to move from one place to another, the massage parlors of course, the rooftops and the floating market of Damnoen Saduak and the fish market of Mae Klong which is held on a railroad. Tour to book in town! Impossible to get bored in BKK.

Khao Sam Roi Yot National Park (1/2d)
From Bangkok or starting the descent towards the south, mark a stop in Hua Hin to then visit the surroundings of which the Park Khao Sam Roi Yot with its many beaches, lagoons and caves like Phraya Nakhon Cave which shelters a royal pavilion built for the visit of the king Rama V. Other spots to discover include Khao Daeng for a view of the area, Thung Sam Roi Yot which is a freshwater marsh home to a wide variety of birds. Plan a full day to discover this park by motorcycle or bicycle.

Surin Islands National Park (2/3d)
Lovers of diving and snorkeling, this is for you! Further south you will find the archipelago of the Surin Islands which can be reached by boat from Khura Buri, 60km away. There are two campsites on the island of Surin Nuea but no other construction except the village Chao Lay. It is however one of the best diving spots in the world where you can see sharks, rays, seahorses, butterfly fish, globe fish, barracudas, etc. Note that the park closes during the rainy season.

Phuket (3/4d) + Similan Islands - Krabi (3-4d) - the Kohs
Phuket is more dynamic and festive. Krabi more quiet with its seaside resort Ao Nang. Both are perfect spots to drop your luggage and enjoy the beaches and surroundings. From these two cities you can join a multidude of islands (the Kohs) stated below to either sleep a few days or visit them for a day and return to your place. Here and there, there is something for everyone : nature, water sports, cave and temple visits, nightlife. You can really come and go very easily with many boats connecting the islands.
For the Similan Islands, there are possible excursions from Phuket (60km). Real postcard with its white sandy beaches and turquoise waters of the Andaman Sea, these 9 islands will delight the fans of diving with an abundant aquatic life but also those who simply want to enjoy the beaches or treks to reach the peaks of the island n°4 for example. (All the islands being called by a number from 1 to 9)

The Kohs (10j) ! Koh Lanta, Koh Samui, Koh Phi Phi, Koh Jum, Koh Pu, Koh Bulon Le, Koh Payam, Koh Yao, Koh Tarutao, Koh Tao, Koh Lipe, Koh Muk, Koh Pha Ngan, Koh Chang Ranong
When I say "Kohs", I mean of course all these paradise islands in the Andaman Sea or in the Gulf of Thailand! And you have the choice here. You even have so much choice that there is so many and all more beautiful the ones than the others. The activities are more or less all the same with beaches of course and any other aquatic activity such as diving or snorkeling but also the visit of caves and Buddhist temples as well as animal sanctuaries and full moon parties at each... full moon of the month. On the program, all the islands listed in the title and you will have understood that the hardest thing is to choose. To get a good overview, try to visit 4 or 5 of them, sometimes sleeping there and taking your time and sometimes by visiting them with a tour from Phuket or Krabi for example.

NORTH 


Ayutthaya (1 day) + Sukhothai (2 days):
As you head north, stop at Ayutthaya at 80km from BKK. This ancient royal city had millions of inhabitants and thousands of Buddha statues before falling to the Burmese in the 18th century and being destroyed thereafter. Today, you can discover these ruins classified as a UNESCO heritage site by renting a bicycle and taking a good walk around the site. (Note that you can also take a tour from the capital).
Still going north at 350km, stop 2 days in Sukhothai which is another historical park as important as Ayutthaya and which is the most visited archeological site of the country. Here also a multitude of temples and buildings testify to the importance of the city in the 14th century.

Chiang Mai (4d) - Chiang Rai (2/3d) - Pai (2/3d) - Chiang Dao (3d)
Several destinations are to be made in this part of the country. Chiang Mai is the largest city in the region and the cultural and religious center of the North. The old city is fortified with walls and has many temples to visit. Student city and dynamic at night, it really has a panel of activity to propose you as well as treks and tours in the mountainous surroundings notably on the sacred mountain and the temple Doi Suthep.
Pai is a small town on the way to Mae Hong Son near the Burmese border. Here, landscapes are very green between the rice fields and the mountains and offers a framework of total quietude. The program: trekking to meet the ethnic groups of the region, rafting, waterfalls, hot springs. In short, we are in the middle of nature, in hippie mode, and that's the spirit we are looking for here.
Chiang Dao is located 90km from Chiang Mai and is a paradise for nature lovers with organized treks in the rice fields, the jungle and the Doi Chiang Dao mountain. There are many caves to explore with their Buddha statues, hot springs at Pong Arn, waterfalls at Sri Sangwan or the Wat Tham Pha Plong temple in the heart of the jungle.
Chiang Rai is 200km from Chiang Mai and was the center of the kingdom in the 13th century. It is now a starting point for many hikers in the region and still has temples of great beauty and unique by their whiteness.

EAST
Isan : Kaho Ya National Park (2d) - Nang Rong & Phanom Rung (2d)
Isan is the northeastern region of the country which is very often neglected by tourists and yet it has something to delight all history lovers. You will find there the Khao Ya National Park and its 2100km2 which shelters many wild animals (leopards, tigers, pithons, and various birds) as well as the city of Nang Rong and its Phanom Rung Park with its Khmer temples which remind us those of Angkor Wat in Cambodia.

Pattaya (2/3d) - Koh Chang Trat & Koh Kut (3/4)d
In the south-east of the country, on the Gulf of Thailand, Pattaya is a very dynamic city which welcomes a lot of tourists for its night life and festive. It also offers many sites to visit such as the Big Buddha, the Sanctuary of Truth, the botanical garden of Nong Nooch.
A little further south towards Cambodia are several other islands that also have many activities to offer. This is the case of Koh Chang Trat and Koh Kut (or Koh Kood). The first one is very touristic, the second one a little bit wilder but you will have in both cases, the same activities as any other island namely beaches, snorkeling, trekking, etc. Think about renting a scooter here to get around the island of your choice.

And more : Erawan National Park (2d) - Sangkhlaburi (2d)
Although I have tried to list a good number of islands (khos), there are still more to discover both in the Andaman Sea and in the Gulf of Thailand. Wander west to Sangkhlaburi or even to Erawan National Park. Thailand is oddly shaped so it's a bit complicated to make a perfect loop without retracing your steps, so don't hesitate to go back in one direction but stop at a nearby town or island.

Outro :
Very touristy country, and for some travelers has lost interest and yet Thailand still keeps a lot of its authenticity in the more remote areas. Feel the warmth as soon as you arrive, enjoy its people open to discussion, its generous nature and its fascinating history. Everything is serene. Thailand is a hub of Southeast Asia and everything is made to go from one country to another. The entries and the exits are easy there that it is towards Laos, Cambodia, Myanmar (Burma) or Malaysia. We entrust our passport to an agency for the visa a few days before leaving the territory and all is fine. The adventure continues.
---✈︎
Comments
Leave your comment