Buenos Aires | The City Guide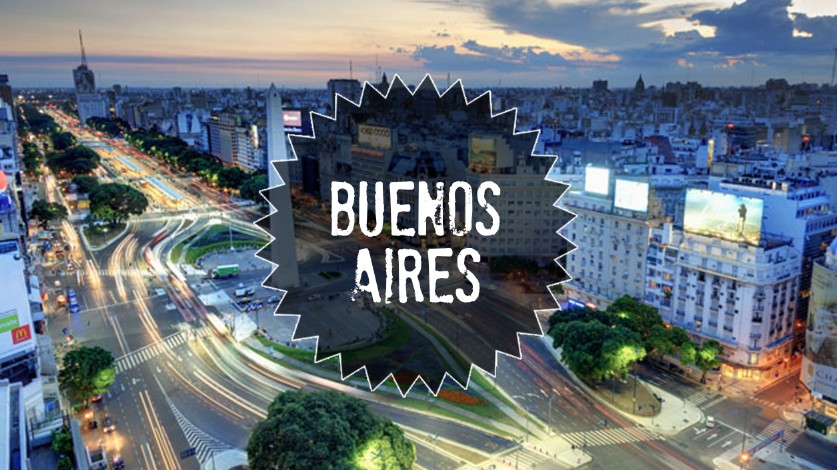 Welcome to the city of Tango ! Bs. As. is the second largest city in Latin America and a great place to live. A city in constant evolution, very European in architecture and yet so Latin in soul. Immerse yourself in the heart of the argentinian capital by exploring both its tourist sites and the underground atmospheres it offers. DALE!

Accommodation :
Bs. As. offers all types of accommodations possible at very good prices. From hostels to hotels or apartments to rent, you can easily find what you're looking for at hostelsworld.com and booking.com or local agencies like argentinarentapart.com o www.bairesapartments.com. Note that Hostelling International are very numerous in Latin America, if you intend to tour the country or continent, they have a loyalty card and can offer discounts.

Av. Corrientes - El Obelisco/ Av. 9 de Julio - Florida - Casa Rosada - Retiro - Puerto Madero.
Let us take our bearings of this gridded city along the Av. Corrientes, a long avenue in which you will find a crowd of people and shops of all kinds, records, souvenirs, bookshops, clothes, theaters, whose atmosphere is equally warm at night. At the junction with Av. 9 de Julio (the largest avenue of the world), you'll come across El Obelisco and not far from there, the sumptuous Colón theater, some of which are free on Sundays, and many other sculptures and monuments. Corrientes extends into the Centro district where there are many exchange offices, the pedestrian street Florida and its tiendas (shops), many hotels, the Museum of Hispano-American art, the Plaza de Mayo and the Casa Rosada (Presidential palace), ending in Puerto Madero which offers a pleasant passage along the quays, with many bars and restaurants to blow a little. By crossing the "dique 3" by el puente de la mujer, you will arrive in the business area of ​​Bs. As where the buildings bloomed in recent years but also huge parques (parks) and lagunas (lakes) as well as the Rio Plata.


San Telmo - La Boca/Caminito - El stadio La Bombonera.
Let's attack the "postcard" of Bs. As ! San Telmo is the bohemian quarter of the city in which one loses itself pleasantly. Here also many bars and trendy shops this time installed in old buildings typical of the former Buenos Aires. Street art and faded walls, ferias notably near the Plaza Dorrego in which you will find many creations of all kinds handmade. Further south-east, La Boca and its famous street Caminito. These colored houses are said to have been painted with remains of paint pots used for boats. Really take your time here, and go round in circles if necessary. A mate or a coffee accompanied by an Alfajor, this typical argentinian cake or a parilla if you are a little more hungry! Many terraces welcome you to the smell of the grills and the tunes of Tango. You will definitely come back to this place. La Bombonera stadium is also in this district and you can see the famous games of Boca Junior. Experience it !

Recoleta - Iglesia del Pilar - Cemetery - Flor Mecanica - Japanese Garden - Botánico Garden.
Recoleta is a chic and commercial district with buildings in the french style. Pass through the sumptuous Iglesia del Pilar as well as the famous cemetery which houses magnificent mausoleums of marble where important people of the history of Argentina, including Eva Peron, rest. Continue towards Flor mecanica, a huge mechanical sculpture that opens its petals during the day and closes them when falls the night. By extending Av. Presidente Figueroa Alcorta, you will arrive at the Japanese Garden, another quiet place to contemplate far from the hustle and bustle of the city center, moreover in a Japanese setting, a getaway in the middle of a getaway. To the south, you will find the Jardin Botánico where it's always pleasant to walk, discovering different species of vegetation.

Palermo, Belgrano.
Palermo is the festive and trendy / hippie chic area of ​​Bs. As. It has become enormously popular in recent years especially with the presence of foreigners coming to study or live there. There are also wide streets where it's good to "chill" between the many bars / cafes, local designer stores or major international brands and a lot of hotels and youth hostels. Palermo is subdivided into Palermo Soho in reference to the Soho of New York, and Palermo Hollywood, because all the television stations, the radio and cinema companies have their studios there. Belgrano, at the north, is a very lively residential area thanks to its Chinatown which brings together a large asian community that has kept its culture and traditions. The plaza Belgrano is also a meeting place for craftsmen who open their markets on weekends near its cathedral la Redonda.

And much more !
The Catedrale Club (Sarmiento 4006) is an exceptional place to see concert or show while nibbling some good empanadas. They also give Tango lessons which you can master the bases in a short time. On Av Santa Fe in 1860 (Callao and Santa Fé) the surprising Ateneo Bookstore has restored and invested the premises of an ancient theater to become a literary café. For street art lovers, buenosairesstreetart.com offers a city tour in graffiti from Palermo Hollywood. Shopping Abasto, located on Av. Corrientes at the level of Subte Carlos Gardel brings together all the major brands for those who want to make a day shopping. A little farther from the center and not frequented by tourists, La feria de Mataderos takes place on Sundays and you will find here all the traditional handicrafts of the argentinian rural world and it's also the occasion to see a few gauchos confronting horses in competitions of address. Tigre is located 28 km north of Buenos Aires in the delta of the Río Paraná, 40 minutes by train from Retiro. You will find many museums, a shopping mall inside the harbor that sells typical fabrics, leather goods, fruits and other authentic natural products, an entertainment park and a casino for the players or boat tours to Through the islands of the delta.
Buenos Aires is a "puta madre" of ciudad and the portenos are absolutely charming and welcoming people. It's possible to visit this city in 3-4 days, but I suggest taking your time as in each capital, as you will surely want to retrace your steps in some neighborhoods, day and night. Soak up his Tango, his Fileteados and his intense story. Bs. As. Is well worth the time to linger and feel its "buena onda".
---✈︎



Get ready with Exit Stamp !

Discover our Lightroom Presets for Mobile & Desktop.
Comments
Leave your comment