Cambodia | The Travel Guide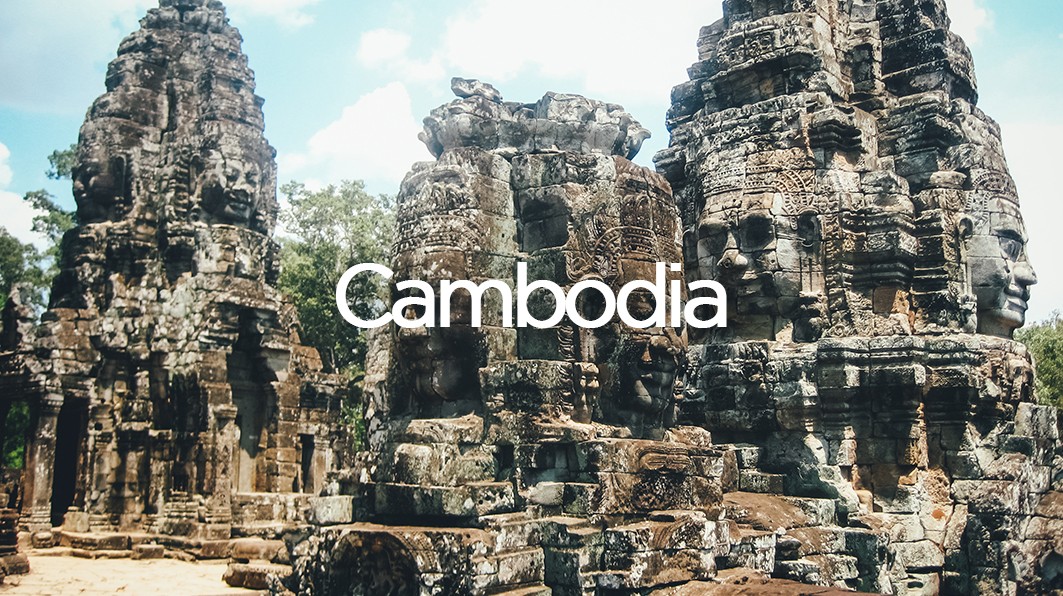 Cambodia (Kam Pu Chea in Khmer) is a must do on a world tour or an Asian tour, just by its ruins of Ankor Wat which are to be compared with Machu Picchu in Peru and the pyramids of Egypt. But Cambodia is full of 1000 treasures to discover with its numerous beaches and its green jungle.


⤁ Backpacking Cambodia ⬵
• Travel tips • Places to visit • Itineraries •
↡

Budget : 15-20$/€ per day
Currency : 1€/1US$ = 4600 Cambodian Riels
Visa : Visa, 30 days for most passports upon arrival at the border.
Sleeping : 6-20 $/€ bed in dormitory / good double room
Transportation : $5/€ for 4-5h bus ride.
Food : Bai Sach Chrouk, Amok fish, Khmer red curry, Khmer Lap, Nom Bank Chok, Kdam Chaa...
Weather : Hot from November to May, wet season from June to October.
Religion : Buddhism, Islam, Christianity, Animism.
People : Khmer, Viets, Chams, Chinese, Kui,
Music : Khmer Folklore, Traditional music, Funk, Rock and Hip-Hop.
Language: Khmer, English, French, Mandarin.
Lexicon :

Hello
How are you doing?
Very well and you?
Thank you very much
Goodbye to you
Sou sdey
Sok sabay?
Sok sabay, Tcho Nea Vegn ?
Orkurn (chran)
Lee Hai
** ITINERARY TIPS **

As in all our articles, we try to imagine a more or less coherent route that allows to see the most important places of the country while keeping a logical route for the travelers who want to go from one point to another.
Here, we will start in the north of the country, near the borders of Thailand and Laos, to start a small loop towards the west and the south by passing by several stages without order of preference or importance. Everyone is free to adapt his route according to his desires, his position of entry and/or exit of the country. (ex: towards Thailand, Laos or Vietnam...)

** TRANSPORT TIPS **

As everywhere in Southeast Asia, the best means of transportation is the bus, whose seat sometimes reclines almost completely to sleep comfortably. The distances between cities are not so long but the roads are sometimes very bad, so prefer night trips which will save you hotel nights and you will arrive at your destination the next day in good shape.


Sra Em & Prasat Preah Vihear (2d) - Sisophon : Banteay Chhmar (2/3d) - Battambang - (2/3d)
Before tackling the core of Cambodia, let's have a look at Prasat Preah Vihear, near the Thai border and which can be reached from the small village of Sra Em. You will see an Angkorian style temple in the middle of the jungle, at the top of the Dangkrek mountains which slope is quite steep but which offers at the end a sumptuous view on all the surroundings. It was for a long time an area of conflict with the Thai but it attracts now more and more travelers.
Banteay Chhmar is also an Angkorian site lost in the middle of the jungle on the Thai border, 60km from the small town of Sisophon. Very few tourists come here but it can be a qualitative plus for those who want to discover more about the Khmers. Tourism tends to improve around here, near Noa Men, with the possibility of sleeping at the inhabitant's house for a total immersion. For more information, visit visitbanteaychhmar.org
From Sisophon, you can also go to Battambang, one of the most important city of the country but which has kept a certain tranquility with its colonial architecture, its museums and its artistic district. Tours are offered to discover the surroundings and the local cuisine as the region is the first producer of rice and you can go to Phnom Sampeou in the evening to observe a flight of bats quite imposing.


Siem Reap : Angkor Wat - Wat Beng Mealea - Tonle Sap & Kompong Khleag (5/6d)
This time, we here. The "center" of the Khmer kingdom. Before visiting the ruins, you will have to put your luggage in the town of Siem Reap, very dynamic with many guesthouses, bars/restos, stores of all kinds. Everything is there. Here the tuk tuk will approach you to offer you their service which you will need to bring you to the different sites of Angkor Wat. Obviously, negotiate their rate whether it is for one day, 3 days or 1 week. You can also go to the site by scooter or bicycle but keep in mind that the site is huge and some ruins are very far. So save your strength between each temple.
You will need a ticket to visit the different temples of Angkor: 1 day = $37, 3 days = $62 or 7 days = $72.
I recommend the 3 days minimum to fully enjoy the different temples with of course the masterful Angkor Wat but also Bayon, Angkor Thom, Ta Phrom, Pre Rup, Phnom Bakheng and so many others such as Wat Beng Mealea which is 2 hours away by tuk tuk, but whose escapade in the jungle will delight the most adventurous. There are many tourists here and sometimes groups of 50 or more. You can try to stay away from them, especially for your photos but it can be cool to listen to their guide's explanations. The site opens at 6am so be early and enduring to enjoy a sunset in the evening. The MUST DO. The postcard of the country.
More info on siemreap.net


There are plenty of other places to visit in Siem Reap, so consider extending your stay here. You can go to Tonle Sap Lake which is a real floating village with houses, schools and even a crocodile "farm".
Kompong Khleag is a small village 50km from Siem Reap located on the banks of the Tonle Sap and has 14000 inhabitants with shops, schools, clinics, etc... Less touristy because it is further from Siem Reap, but you can still see a more traditional and authentic life.


Phnom Penh (3/4d) - Koh Dach (1d)
The capital, Phnom Penh, is very pleasant to visit, so spend 3 or 4 days here to enjoy its gentle way of life, especially on the main avenue which borders the Tonle Sap River and the Mekong. You can visit the Royal Palace, Wat Phnom, the National Museum as well as the Tuol Sleng genocide museum and the Choeung Ek killing fields. A more painful visit, but essential to understand the history of the country with the Khmer Rouge (1975-1979).
Phnom Penh is much less developed than BKK or Saigon but is looking forward and is in full evolution.
North of Phnom Penh is Koh Dach in the middle of the Mekong River and is a perfect day trip to take by tuk tuk from the capital. It's an island of weavers whose workshops we can visit and who explain their crafts. Here we are in full rurality with rice fields, fields and houses on stilts.


Sihanoukville - Kep - Kampot - Koh Ta Kiev - Ko Rong Sanloem - Koh Rong- Kho Tonsay & Rabbit Island - (7-10d) :
We will group here the 3 major coastal cities followed by their closest islands. Of course, one comes to this part of the country for the paradisiacal beaches, the party, the hikes and the aquatic activities but one can also find oneself in a more quiet island.
Sihanoukville does not attract so much with its casinos and its high towers but it is the departure point by ferry (from Serendipity Beach) of the following islands:
- Koh Rong : The most touristic, basic and luxurious accommodation. Lively beaches and deserted beaches, the village of Koh Toch is very lively.
- Koh Rong Sanloem : Quieter than Koh Rong, but offers the same type of activities for all types of budget.
- Koh Ta Kiev : Much less touristic, bungalow or hut, very little electricity. We come here to live a "cut off from the world" experience like Robinson Crusoe.
Kampot & Kep (3/4d) are 2 coastal cities with colonial architecture and travelers come here for its tranquility. Kampot does not have a beach but offers rock climbing and abseiling, kayaking, paddle and other water sports on the river. Kep is on the coast and offers the same type of water activities as well as the island of Kho Tonsay for more escape. Both cities are very nice and you can do them in a short time because of the short distance between them.


**After these relaxing moments on the coast, many travelers head to Vietnam in Ho Chi Ming City. For more Cambodian discovery, here is an extra of wonderful nature to discover, in the East of the country.**


Mondol Kiri - Saen Monourom - (3/4d) :
At 6/7h by van from Phnom Penh, heading east (remember to mark stops, see the + below), you have the province of Mondol Kiri which is the dream place for nature lovers, trekking, traditional villages, wildlife and waterfalls including Bousra, the largest in the country.
Settle down in the quiet town of Saen Monourom for your excursions. The Monourom waterfall is only 5 minutes away from the town.

Ratanakiri - Virachay Park (2/3d) :
Even further north-east is Ratanakiri which is attracting more and more backpackers. A region in full development whose the big city Banlung is the starting point for excursions. The site to see here is the Yeak Lom Lake with its transparent waters as well as many waterfalls (Cha Ong, Ka Tieng, Ka Chanh). Virachay National Park is even further north, 50km from Banlung, and is still very little explored. Here you can see elephants, bears, tigers and panthers and ethnic groups that still live in isolation. You will need a certified guide in Banlung to get to this magical park.


And more : Kampong Cham (2 days) - Kratie (2/3 days)...
We have listed here the most important points of the country but if you have more time, don't hesitate to stop here and there or to make detours that interest you such as Kampong Cham (between Phnom Penh and Mondol Kiri) which offers sumptuous rural landscapes as well as temples or Kratie, on the same road where you can see Irrawaddy dolphins swimming in the Mekong River or make "Mekong Discovery Trail" tours to discover the surroundings until Stung Treng.
Other towns and villages here and there will always have a few more things to bring you like Chi Phat in the southwest or Angkor Borei in the south.


Outro :
Cambodia is enigmatic with its distant history and the temples of Angkor are a great testimony to this. Its jungle is an electric green, its wildlife is savage and its people friendly and warm despite a recent history quite dark. There is also a gentle way of life and an atmosphere that soothes the spirit. It is a complementary trip to Thailand and Laos and together they form a logical continuation of the same journey. It is also a gateway to Vietnam if you are looking for more adventure and discovery.
---✈︎


Comments
Leave your comment