Botswana | The Travel Guide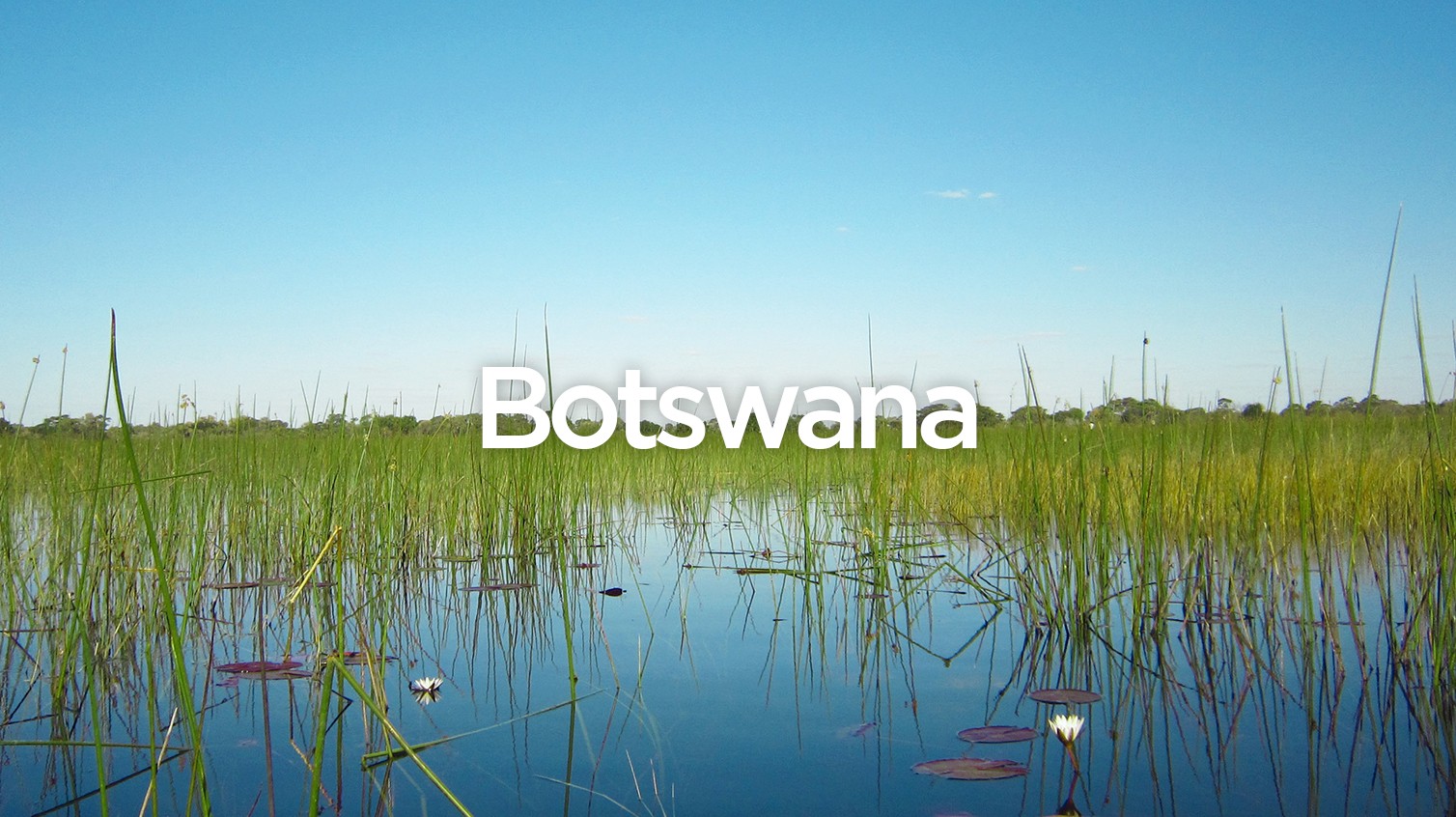 A must in the south of the continent, Bostwana is home to the Okavango Delta and many national parks and reserves with a variety of scenery, for our greatest pleasure. Zebras on the sides of the Nxai Pans, an elephant in the middle of the Okavango or crocs on the Chobe River, this is a destination that offers many safaris, varied and often cheaper than these major competitors from Kenya, Tanzania or from South Africa. Cut yourself out of the world amidst all these parks and enjoy the country's sweetness.


⤁ Backpacking Botswana ⬵
• Travel tips • Places to visit • Itineraries •
↡

Budget : $30- $50 per day.
Currency : $1/€ = + - 10 BWP (botswanian pula).
Visa : No visa for citizens of: France, Canada, Belgium, Australia, NZ, UK, USA... Provide a passport valid for at least 6 months after leaving Botswana.
Sleeping : $10 for a bed in dormitory. + -50$ for a single / double room in lodge.
Transportation : $20 for a day by bus.
Food : very varied food due to Europeans.
Weather : wet Nov-Mars. Dry May-Oct.
Religion : different forms of Christianity.
The people : Afrikaans, Batswana,
Music : Kwaito, Traditional Folk, Hip-Hop, Metal.
Language : English, Setswana.
Lexicon :

Hello
How are you ?
I'm good and you ?
Please
Thanks You
Goodbye
Hello
How are you ?
I'm good and you ?
Please
Thanks You
Goodbye
Gaborone (2d): National Museum & Art Gallery - Botanical Garden - Gaborone Game Reserve.
"Gabs" is a true cosmopolitan city as you would not expect at all. A diverse population of blacks, whites, Indians, African mixed and more and more chinese who make this capital a mix of cultures. There is not much downtown and most activities, shops and restaurants are rather out of the way. A good way to spend an afternoon is to visit the National Museum & Art Gallery which tells us about the country's demographic life and the Botanical Garden if you have an hour or two to kill while strolling through the city. 1km east of Broadhurst is the Gaborone Game Reserve for a mini safari where you'll find impalas, zebras, warthogs and white rhinos. Plan a car to get there.


Makgadikgadi & Nxai Pans National Park (3d) :
Formerly a large 60,000km2 lake fed by the Okavango, the Makgadikgadi & Nxai Pans National Park is now laid on salt deposits (pans) that have been concentrated during 10,000 years of drying up the lake. This park cut in 2 by a road is yet united by the great migration of animals that take place there every year, mainly zebras, symbol of the country. Starting from Nxai Pan, you can admire the baobabs of Baines (named after the painter who represented them more than a century ago) and certainly dating back thousands of years. Poetic.

Maun & Okavango Delta (3d) :
Obligatory passage of the country, Okavango Delta is the postcard of Botswana with its 16000 square km of water from Okavango River helding in this inland delta, the largest in the world.
Go to Maun or its airport and take a taxi to your lodge which will offer one or two day expeditions to the heart of the delta, you will cross aboard a "mokoro", long canoes carved in trunk trees. You will see elephants and maybe some crocodiles if they do not sleep at the bottom of the water. Breathtaking nature.

Tsodilo Hills (2d) :
Enjoy being in the north to go to Tsodilo Hills and its 4 mountains (evil, female, child and north). Many legends and myths around this site that the "San" tribes think that the creation of the world comes from here. More than 2750 ancient rocks are painted on over 200 sites and the museum near the main camp will teach you about this beautiful place.

Kasane & Chobe National Park (3) :
Kasane is a nice little town and a great base for Chobe National Park. You can make here a jeep trip in the savannah where you can admire various wild animals including lions, elephants and impala and a boat trip on the Chobe River where you can see huge crocodiles. The animal concentration is less strong than Kruger, Masai Mara or Serengeti but there is still a superb show to admire for a much cheaper price also (80 €).
Kasane, on the border of Zimbabwe, is also a starting point for Victoria Falls and the discovery of the next country! In addition, it is possible that on the way you find yourself in the middle of an elephant herd. A kind of free safari !

Outro :
Botswana forms a perfect pair with Namibia, one being green and the other rather arid. See his fauna in another setting, another light. Let yourself be transported on a "mokoro" in the largest inland delta in the world and this in absolute silence. Be cut off from the world in a camp and sleep under the stars enjoying the best lodges of the continent. Southern Africa has not finished surprising you on the land of Batswana people.



---✈︎



Discover our Lightroom Presets for Mobile & Desktop.
Comments
Leave your comment