Namibia | The Travel Guide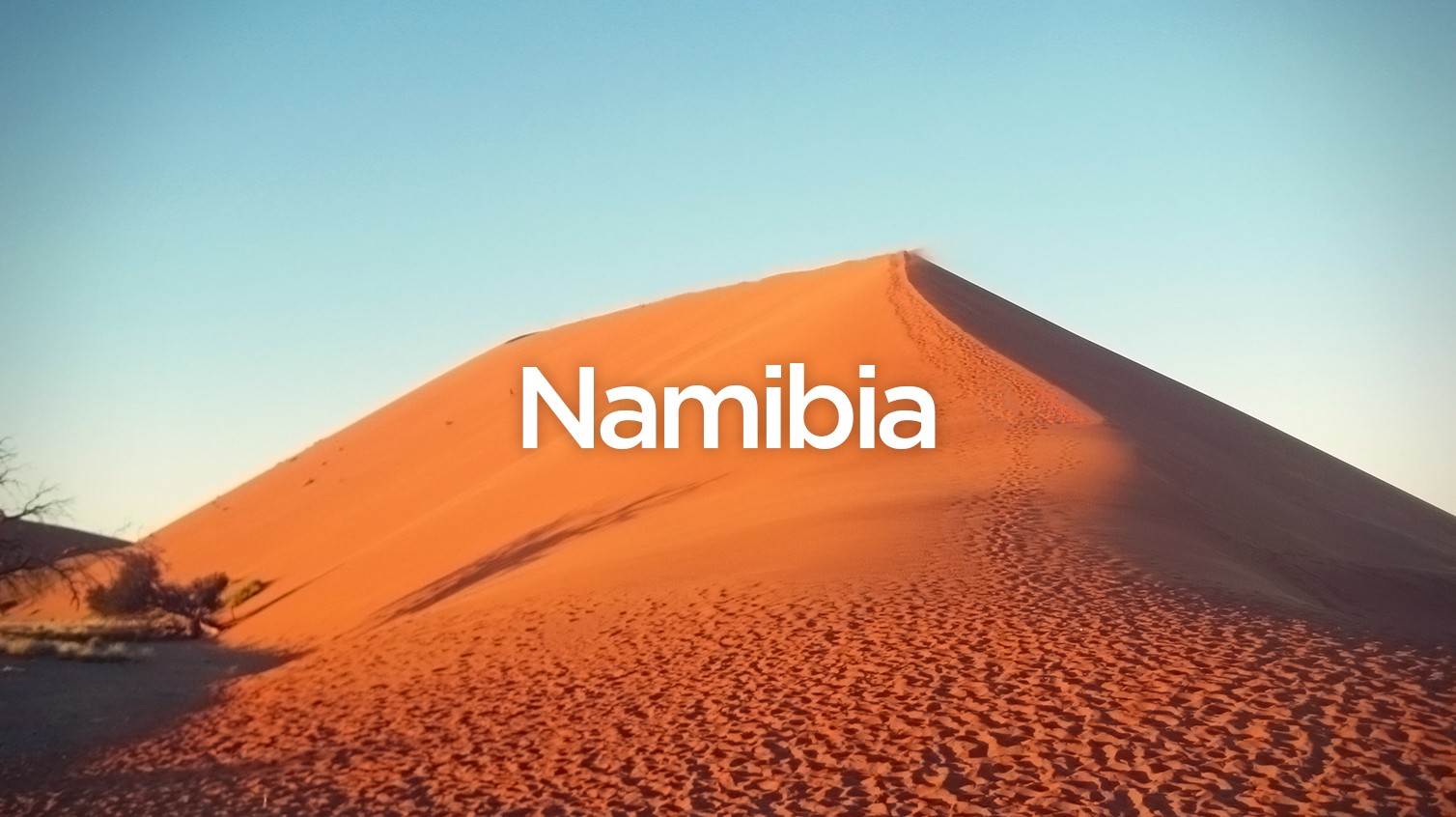 Welcome to one of the youngest countries in Africa. Namibia attracts more and more intrepid adventurers with its arid landscape, its perfectly blue sky and its important wildlife. A dream for any photographer and addict to extreme sports.

⤁ Backpacking Namibia ⬵
• Travel tips • Places to visit • Itineraries •
↡

Budget : $30-$50 per day.
Currency : $1/€ = + - $N12 (namibian dollar).
Visa : No visa, border stamp for French, Canadian, Belgian, Australian, US Citizens, Provide a passport valid for at least 6 months after departure from Namibia.
Sleeping : $10 for a bed in dormitory. $20-30 for a single / double room.
Transportation : $20/d the car rental is the most reliable and economical way.
Food : very varied food due to Europeans, (British, Germanic and Portuguese ...)
Weather : Rainy Oct-Apr Dry May-Sept.
Religion : Lutheran and Catholic Christianity, animism,
The people : Afrikaans, Boers, Himbas, Kavangos, Ovambo,
Music : Kwaito, reggae / ragga, shambo, gospel, african pop, damara punch, ...
Language : English, Afrikaans, German, Oshiwambo, Setswana, ...
Lexicon :

Hello
How are you ?
I'm good and you ?
Please
Thanks You
Goodbye
Hello
How are you ?
I'm good and you ?
Please
Thanks You
Goodbye
Windhoek (3d) : National Museum - Owela Museum - National Art Gallery - Post St Mall.
Windhoek is a small capital whose influences of Germanic colonization are still breathed by some of its architecture as well as its Neo-Baroque church. Its oldest building houses the National Museum of Namibia whose exhibition focuses mainly on the country's independence struggles while the Owela Museum teaches us more about its nature and history. The National Art Gallery offers works by local artists, some of which are for sale. The heart of the city lies to the Post St Mall with many shops and coffee shops / restaurants.

Sesriem & Sossusvlei (2d) : Dune 45 - Dead Vlei.
Either by renting a car + GPS or with a guided tour (300 €/$ approx.), allow at least 2 days for Sossusvlei, Go/Return. After a sunset on the dunes, you will sleep in camp 1 night, (the hotel night is VERY expensive) and you will wake up early in the morning to explore all the most beautiful red sand dunes in the country, starting with a sunrise on the Dune 45, perfect spot to take several pictures. This desert, unique in its color, is an unforgettable and indescribable landscape, where life would have disappeared for thousands of years but where the beauty of this chaos subsists. Red hills as far as the eye can see, its dead, dry trees, of which only the trunk remains, sometimes some brush of greenery that remain and if you are lucky, perhaps you will see you an owl camouflaged in these branches. You will also go through canyons in which to walk and probably find themselves face to face with impalas!

Swakopmund (3d): Swakopmund - Walvis Bay - Dune 7.
Welcoming small town on the west coast, Swakopmund has become the sports capital of the country with many activities on the sea or on the sand dunes that surrounds it. On the program, quad, sandboarding, horseback or camel riding, flight over the desert and parachute jump. On the city side, it's rather quiet, take the opportunity to stroll or to visit the Kristall Gallery which exhibits large crystal room dug in national wineries. Walvis Bay is also a small coastal town a few kilometers away, you can spend a relaxing day and once there, take a taxi that will take you to the Dune 7, the highest hill in this part of the desert, yellow this time. Tiring to climb but a top view!

Etosha (3d) :
Etosha is one of the largest places in the world where a lot of animals are concentrated. It has the particularity of bringing them together around a huge white salt desert, itself surrounded by green savannah. The scenery is different from Kruger in South Africa and Masai Mara / Serengeti respectively in Kenya and Tanzania. Etosha is the habitat of 114 mammal species, 340 bird species and 16 reptiles and amphibians, which means that the wildlife is very diversified and here also according to your choices, plan a good 4x4 for hire or a proposed tour in the capital.

Opuwo & The Himba Tribes (3d) :
Enjoy being in the north to get to Opuwo, starting point for excursions to neighboring villages, where lives the ethnic group of Himba (also found in Angola). A tribe of 50,000 people, sometimes living near the city but still living according to their tradition. For this, join a tour organized by your hotel or find yourself an independent guide in the city.
Be respectful to the Himba and avoid photographing them without their agreement when you see them in the city. In your turn, don't hesitate to ask the questions that interest you to your guide and to interact directly with them. Also go through their giftshop for a souvenir and help the community.

Fish River Canyon (5d) : Hobas - Hiker's Viewpoint - Main Viewpoint.
For trekkers and thrills, take a deep breath at Fish River Canyon, one of the largest canyon in the world and cross half the park for 5 intensive days. Take all necessary information at the Capital Office.
I advise you here also take a guided tour where you will be several to share the experience. Hobas is the point of entry where you can buy some snacks and drinks and the trek starts at Hiker's Viewpoint 10km away. The main Viewpoint, a little further south, has a better view of the canyon and you'll spot a river known as Hell's Corner for its tight bend.

Outro :
With its unique aridity in the south of Africa, Namibia is a country apart and yet goes hand in hand with Botswana, which is poles apart with its huge Delta. A landscape cruelly arid and immensely beautiful. This striking contrast of the red desert and the blue of the ocean. His maddening wild life and this mixture between siblings and his tribes still very attached to the traditional life. Clearly, Namibia is a place apart of Southern Africa, a must do for all travelers wandering around.



---✈︎



Discover our Lightroom Presets for Mobile & Desktop.
Comments
Leave your comment