New York | The City Guide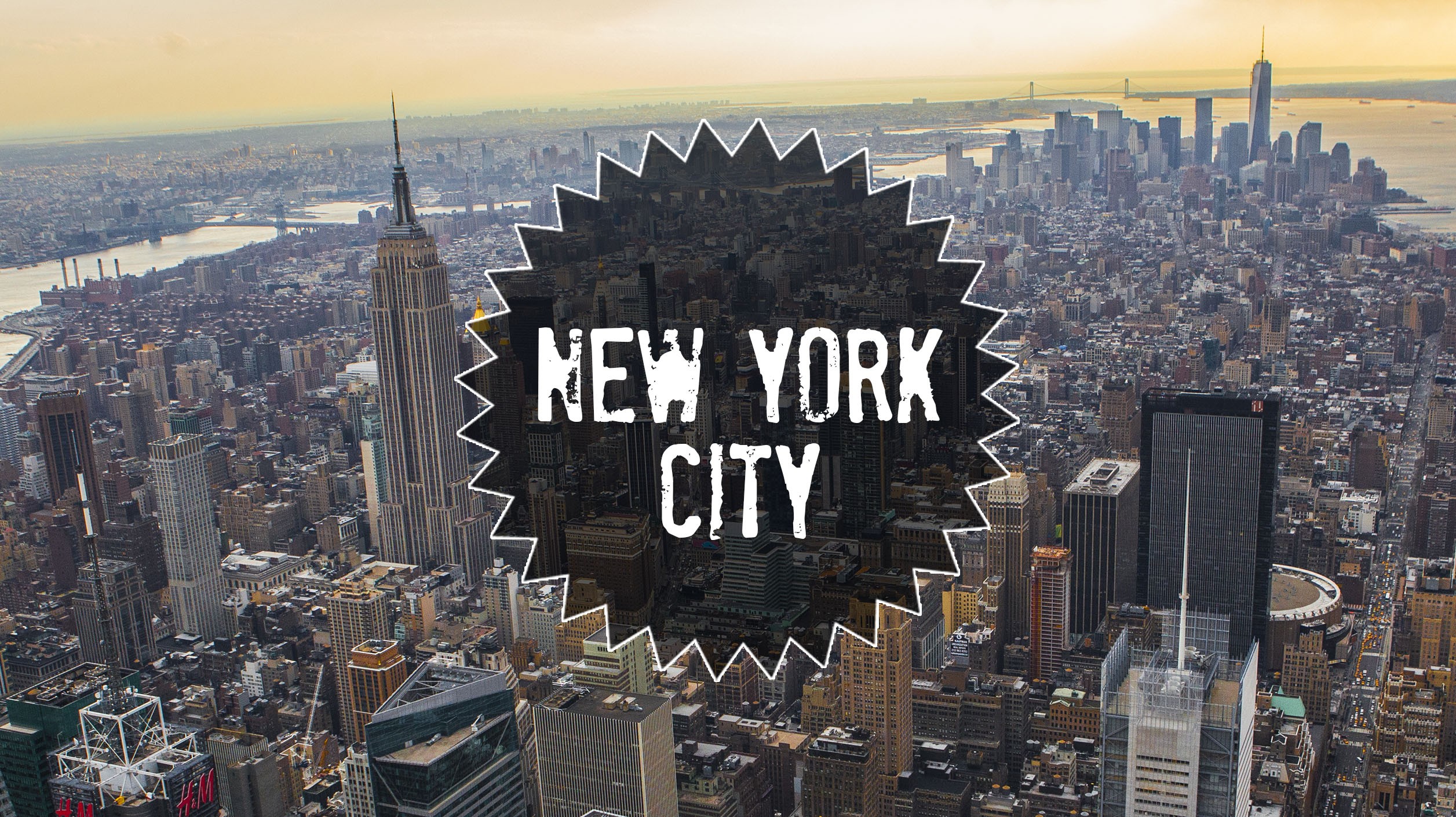 New York is a classic, a powerful city that never leaves indifferent. We love it or we hate it. New York is the world on an island, you can find anything here, it is all here. Generally it feels so well that there's no great difficulty to feel home.
From my own experience, I'll tell you New York, first as a tourist, what to see, what to do; then as a resident of the Big Apple, tips, issues and alternative lives.
Intro
Passport:
To enter the US, European passports automatically have a 90 days tourist visa. Simply carry more of an electronic travel authorization (ESTA) to complete, download and pay ($ 14), all online on the official website: https://esta.cbp.dhs.gov/esta/
For non-EU passports, you should apply for a tourist visa at the US Embassy in your country, the price and the duration of the visa varies depending on your nationality.
Sleeping :
The city offers a wide choice of accommodation easily found on the net and there is absolutely no need to be in the center of New York to enjoy your stay. There are things to see everywhere in NYC, and ways to get there are very easy. I used to live in Harlem, Brooklyn and Queens, all very different areas and very easily accessible by Subway (10-15min to Times Square).
Then, prices are very varied, hostels are for me a very good solution, around $ 20 for the least expensive bed for the Jazz on the Park hostel on Upper West Side. I always recommend hostels because, as a solo traveler, this is the best way to meet people in the same spirit. Otherwise, as worldwide, AirBnB and Appart'Hotels sites might be cheaper if you're traveling in group or family and if you want some comfort. Couchsurfing obviously remains the least expensive solution, however, requires to see reviews on whose receiving you ! For these reasons, I let you be master of your choice for this point!
1- Visit New York
To enjoy New York and its five boroughs, we need at least 10 days to visit and chill around the city which constitues in streets, avenues and blocks, really easy to navigate (see Subway map right here). On your "To Do List" you already can check the following sites I have categorized by zone. 
** TIPS **
Before leaving, make sure you got the New York City Pass, a carnet of tickets giving access to the main attractions of New York (on a 9-day deadline):
1- Empire State Building
2- American Museum of Natural History
3- Metropolitan Museum of Art
4- Top of the Rock (Rockefeller Center) OR Guggenheim Museum
5- Visit the Statue of Liberty OR a boat cruise making the tour of New York
6- 9/11 Memorial & Museum OR Sea, Air, Space Museum.
It will save you valuable time in queues and a good economy on the inputs of each proposed monument. Get the New York City Passe right Here

**City Sightseeing Bus** :
We highly recommend City Sightseeing Bus because we think it's a good way to have a general view of the city before (or even after) you explore it. It offers a tour around the city and its main monument giving few historical information that is always good to know, even for experimented backpacker. It's also a good way to take picture or make videos from a different view.



Times Square - Musical - MoMA - Empire State Building - Top of the Rock
Perfect introduction to the Big Apple, Time Square slap you when you land there for the very first time! Time 2 if you arrive here by night! Everything is oversized, buildings, advertisements, the crowd. Make it in all directions, hot dog in hand, souvenirs and other shop in every corner and musicals to book for later! Not far away, on 53rd Street, you will find the MoMA, great contemporary art museum created in 1929, which constantly renews their collection. I also recommend its annex Museum, PS1, which offers much more experimental exhibitions. This one is located in Queens, Subway 7 - Hunters Point Avenue. On 49th Street, you will find the Top of the Rock (Rockefeller Tower) which offers breathtaking views of Central Park and Uptown NY as well as Downtown NY. Further south on the 34th, Visit the Empire State Building that offers a view of the top of the rock, New Jersey and NY Downtown.
Try one of these two towers in the evening to see the sunset or a night view of the city that will illuminate gradually. From a monument to another, take the opportunity to pass by Broadway and 5th Avenue during your walks. Remember that NY should be done in long, wide and across! Further south, at the intersection of Broadway and 23rd Street, you will find near the Madison Square Park, the famous Flatiron Building, built in 1902 with its triangular shape is reminiscent of irons. Epic !
Central Park - Natural History Museum - MET - Guggenheim
From the 59th to 110th Street, the heart of the city offers to its inhabitants a place of rest and relaxation. People do running, baseball, football, relaxation on the grass, skating in winter, swimming pool and concerts in summer, horse drawn sleigh rides. The perfect place to get away from madness urbanism. On both west and east sides of the park you'll find the Natural History Museum, the MET and the excellent Guggenheim Museum. Take the opportunity to wander around Upper East Side and West Side neighborhoods if you have time. Strawberry Fields, John Lennon's memorial is located at 72nd Street and Central Park West.

** TIPS **
MET and Natural History Museum: Entrance is by donation, you can leave $ 1.
MoMa: Free Friday from 4pm.
Guggenheim: Free Saturday night from 6:30pm


"ALIENS IN NEW YORK" - WATCH THE VIDEO !

Wall Street - Battery Park - Statue of Liberty and Ellis Island - Brooklyn Bridge.
Downtown, the famous Wall Street district, its huge towers, the 9/11 memorial and its "Bull". Stroll through this area to reach Battery Park and the starting point for the ferry ($ 17) for Ellis Island and the Statue of Liberty. These two monuments are free, however you must book to get on the crown of the statue. For a more distant view of the monuments and Manhattan, there is also a ferry that connects Staten Island with just your Subway pass. Departures every 30 minutes.
Going up Manhattan, you can head this time to the Brooklyn Bridge, another emblem of NYC, where here too, view is incredible and bette while walking away from Mahnattan.
Hoods : SoHo - Little Italy - Chinatown - Tribeca - East Village - Chelsea -Greenwich - Harlem - Williamsburg ...
I think the most important in New York is to wander the streets and neighborhoods that we already know from movies and series. The charming Little Italy stuck to the mad Chinatown, Soho and its shop and The Highline sidewalk, this ancient railway turned into a higher park of the city between 14th and 30th street.
Harlem for his sunday morning Gospel where a multitude of church will receive you (be discreet for your photos by respect for the faithful). Soak up the African vibe that represents this district, passing the legendary Apollo Theater.
In Brooklyn, sail between Williamsburg hipster, punk/rock side and ballads along Brooklyn Heights and Dumbo, but don't forget have good time on Coney Island beach. New York is a huge organized mess, a city of artists, musicians, painters where all styles are there. There is a different heat from a street to another, every 'hood got its smell, a vibe to feel. Between each monument, lose yourself, have a seat, in a park or an alley, a coffee shop or a street corner, a gospel or rock bar. New York does not sleep, so do not sleep!
2- Chillin 'in New York City
To chill longer in NYC, otherwise staying up to 90 days (time limit for European passports) there's a very nice way to save money by not paying his hostel bed against service rendered. It is not illegal I assure you, you just have to work a certain number of hours per week to enjoy a bed in the staff room.
In my case, I was working from midnight to 8am, on front desk and washing machines, 3 times per week, which corresponds to 24 hours per week. We had a good fortnight abroad to do it in pairs or more, in a friendly atmosphere. A great deal knowing that housing is what costs the most expensive in Gotham.
From the moment you are cool for housing perspective, then New York is yours and now you have to live like a New Yorker. You'll already knows museums, tours and parks. It's now time to make NYC yours. The neighborhoods are friendly and all very different, people are also very open to discussion. Concert halls, record stores, coffee shops, small exhibitions, Base Ball games at Yankee Stadium, Basket Ball games at Madison Square Garden. New York is a place to visit but also a place feel. Retrace your steps, go further on Long Island, cross the Hudson River to discover New Jersey and Hoboken, get in clubs on East Village and Greenwich, eat in Astoria (8th Street), control all the Subway lines discovering street artists over there. Ride a bike, join a makeshift football team in one of the many parks, squatting the rooftop parties. Feel the NYC vibe. LIVE in NYC!
3- Living in New York City.
** TIPS ** (For non US-resident)
Informations I'm giving you below, are perhaps not what is more advisable, however I would like to leave the beaten path to offer an alternative to the classic (and still more comfortable) way of training or hiring company made in the administrative rules.
Living in New York is the dream of many people and I leave you some tips to move there quickly. There are many English schools in New York at very varied prices with which it's possible to get a student visa. The cheapest I know is the Spanish-American Institute whose price is about $ 55 a week. There are of course plenty of other schools with different prices, all easily available on the web. These schools allow you to obtain a student visa for the duration of registration (6 months or a year, renewable). Many illegals are living in New York, entering in the country as any tourist, and then falling in love with the city and the lifestyle, decide to stay beyond the 90 days. Some 6 months, others 1 year, 2, 5, 10 years or their entire life...
Renting a room is very simple, no guarantor or security, you only have to pay 2 months in advance and it's all yours. Many of them are working in restaurants, bars, clubs or other jobs paid by tips. Some people say half of the population in New York is illegal or clandestine, and all lead a normal life, without hiding themselves with a job, a home and a bank account. However, in certain state, there may be controls and deportation, and if you get stopped at the border with an expired visa, you incur 10 years inadmissibility, that's why I recommend great caution in your choices.
Anyway, New York is a city that we have never finished to discover by all things it's happening there. Atmosphere is so different in summer or winter, for Halloween or Christmas or any other time of the year. You are in New York, welcome to the world.
---✈︎



Discover our Lightroom Presets for Mobile & Desktop.
Comments
Leave your comment