South Africa, Swaziland & Lesotho | The Travel Guide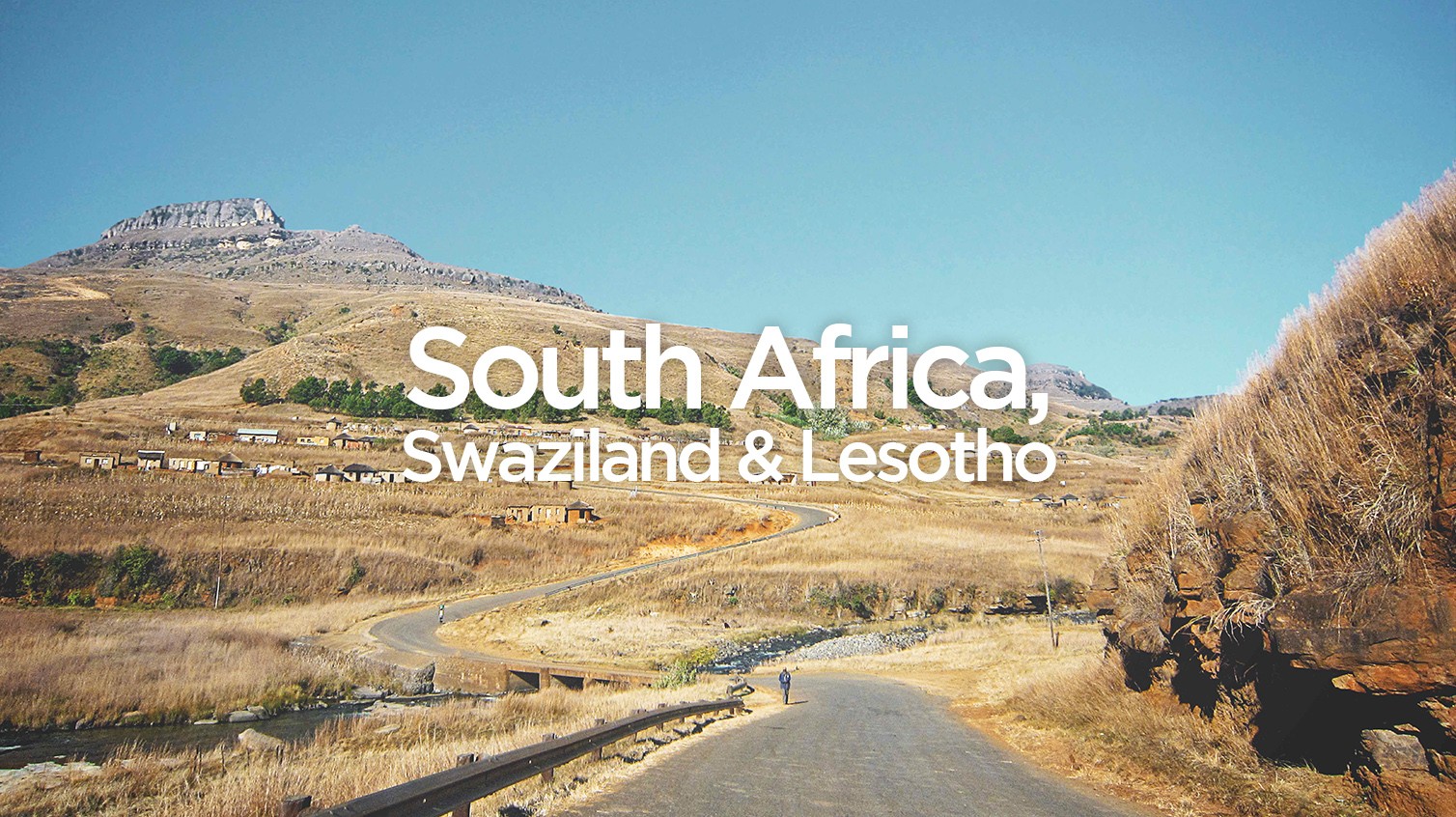 Swaziland and Lesotho are two kingdoms within South Africa that make up the size of a region of the country. This is why we will treat them at the end of this article but feel free, of course, to integrate them during your trip along the route that you have predefined. South Africa is a bit of a world away and it's still a big chapter of the continent. A country with complex history, diverse tribes and successive colonizations that offers us today a true mix of civilizations, from Zulus to Xhozas through Malay Muslims, Indians and European Dutch and English.


⤁ Backpacking South Africa ⬵
• Travel tips • Places to visit • Itineraries •
↡

** TIPS ** :
The best way to travel South Africa is to rent a car. This is the cheapest way (about $20/€ per day) but also the most convenient because you can leave whenever you want. Take a GPS at all costs, type in your address or the geolocation number of your destination and just follow. EA-SY.
Budget : $35-$70 per day. For a safari, count $1000 for a full week, accommodation transportation, and entrance to parks.
Currency : $1/€ = + - 12 ZAR (rand).
Visa : 90-day visa at the border provided free of charge. Provide a passport valid for at least 30 days after departure from South Africa.
Sleeping : $40 for a single / double room.
Transportation : $20/d the car rental is the most reliable and economical way. Otherwise, to travel with the company BazBus (see detail in TIPS)
Food : very varied food due to the cosmopolitanism of the country.
Weather :   Sept-May: warm in Cape Town, wet at Jozy & Durban.                
                   May-Sept: cold and wet at CT, dry at Jozy & Durban.
Religion : different forms of Christianity, and Islam, Hinduism
The people : Afrikaans, Boers, Zulus, Xhosa...
Music : Kwaito, South African Jazz,...
Language : English, Afrikaans, Ndebele, Xhosa, Zulu, Swati and other tribal languages
Lexicon :
Hello
How are you ?
I'm good and you ?
Please
Thanks You
Goodbye
Hello
How are you ?
I'm good and you ?
Please
Thanks You
Goodbye
** TIPS ** :
South Africa is made for backpackers because South Africans are themselves big travelers. You will find rooms everywhere and in all forms : hotels, hostels, BnB, camp to all budgets. For those who prefer transport to renting, the BazBus company, specially designed for young travelers, offers daily departures to all destinations, a bit expensive but safe. You will find in each hotel two free guides that will help you a lot to cross the country: "Alternative Route" and "Coast To Coast". GET THEM !
** South Africa remains a dangerous country, so be careful and do not expose too much your valuable in the streets of big cities. Avoid the popular minibuses where you risk being robbed and always opt for taxis when the night falls.
Gauteng (5d): Johanesburg & SoWeTo - Top of Africa Building - Apartheid Museum - Pretoria (Voortrekker Monument & Museum - Church Square - Paul Kruger House Museum.
Johanesburg also known as Jo'Burg or Jozi is the economic capital of the country, constantly developing. Dangerous city, clearly, in which I recommend a great precaution. Head to the Top of Africa building for a view of the city and Mary Fitzgerald Square for a good time between coffee shops and museums like Museum Africa. Do not miss the Apartheid Museum, which evokes this dark era of the country's history through photos, films, texts and other historical objects. Take a ride to Soweto, one of the world's most famous slums with 5 million inhabitants. Unique experience but comparable to the favelas of Rio, in which you have to immerse yourself in trying to understand the South African reality. You can opt for Soweto Backpacker's Soweto Bicycle Tour for more fun and convenience, but several companies or hotels offer tours that will take you to Nelson Mandela's old house. Although it may seem like a tourist attraction, it's above all a personal experience to live and also a great way to make the township economy work. MUST DO !
Pretoria, capital of the country, has a softer architecture, older than his sister Jozi. The Voortrekker Monument & Museum tells the story of what is called "the white tribe of Africa", the Boers and their victory over the Zulus. It's located 3km south of the city near Freedom Park, a hill dedicated to local and international people who sacrificed themselves for freedom. In the heart of the city is Church Square surrounded by buildings as well as the house/museum of Paul Kruger, former president of the country (1899-1902).

Kruger National Park (3d) :
Kruger is an obligatory passage of the country. The animal concentration is so high, mainly the south of the park which has a simpler access also. You will see the "Big Five" but also hippos, leopards and endless varieties of birds.

Drakensberg & Lesotho (3d) :
The Drakensberg mountains are a nice show where to stop. Curves and peculiar peaks that a magnificent view can be taken from Cathedral Peak Nature Reserve. I recommend sleeping here at Amphiteatre Backpacker Lodge which is a great place to sleep and explore the area as you feel. They offer treks and other mountain activities as well as a day-trip in the heights of Lesotho where you will learn a lot about the life of the villages and its inhabitants (social life, school, medicine...), exciting and unforgettable.

Durban & Kwazulu-Natal Reserve (4/5d): Hluhluwe-iMfolozi NP - iSimangaliso Wetland NP...
Durban is the third largest city in the country and has a huge 6km beach filled with hotels and small bars, and ends with the uShaka Marine World, a mini park with reptiles in a very dark atmosphere. The art gallery is on the floor of City Hall and you will find an important collection of South African art and crafts, mainly from local Zulus tribes. The Victoria St Market can be interesting to capture some of the spirit of the city. However, be extremely careful when you go downtown, known for the violence of the streets. The beach / southeast side is quieter but always move by car or taxi at night. Tours can be proposed for the reserves of Kwazulu-Natal in which you can go there by yourself even if you have your vehicle and to see here as well the "Big Five". Possibility of camping or sleeping in lodges at various prices.

The Garden Route (7-9j): East London - Port Elizabeth - Jeffrey's Bay - Knysna - Oudtshoorn...
On your way to Cape Town, make stops in different cities by driving 2-3 hours in the morning, discovering them in the afternoon, or the next day. Even if there is nothing exceptional, it allows you to take your time and enjoy the trip. Specially, near these cities, you have different activities such as cave exploration, trekking or surfing (East London or Jeffrey's Bay) but also different sanctuaries dealing with monkeys, felines or ostriches respectively. (Oudtshoorn). To do this, pay attention to the signs all along the Garden Road that will tell you what to do/see by stopping even 1 hour or 2 before continuing. Freestyle!


Cape Town & Cape Point (4d) :
For more information on Cape Town and Cape Point, read our article just HERE.

** TIPS ** :
Take advantage of your rental car to get to Cape Point from day one. You will return it to the company the next day and you will finally be free of it if you want to finish your trip in Cape Town and leave by bus or plane to another destination.
Swaziland (7d) : Mbabane - Ezulwini and Malkerns Valleys - Mkhaya Game Reserve.
Led by King Mswati III, the kingdom of Swaziland is one of the smallest countries in Africa, wedged between Mozambique and South Africa. Visitors can enjoy here a varied wild life and a panorama of exceptional mountains. Spend a day, see half a day in Mbabane, just to catch the temperature of this tiny capital. Here nothing special to do but it is also a starting point towards its neighboring countries. At Ezulwini & Malkerns Valley, you will be immersed in the land of Swazi royalty. In the city of Lobamba, one can attend the Royal Kraal during the Inkwala ceremony. (National Festival, check dates in Mbabane). The National Museum exhibits interesting pieces about Swazi culture and the entrance ticket gives access to the memorial of King Sobhuza II. At Mkhaya Game Reserve you will have the privilege of seeing the rare species of black rhino in the wild and in the city of Manzini, the Bush Fire, an important festival of music and arts that took an important place in the country. You have of course other reserves and other activities such as rafting on the white waters of the Usutu River for the more adventurous or the Mlilwane Wildlife Sanctuary for those who want to relax in beautiful lodges.

Lesotho (7d) : Maseru & Thaba Bosiu - Malealea or Semonkong - National Park - Mokhotlong & Sani Top.
Also known as "the kingdom of the South African skies", Lesotho (pronounced le-soo-too) is "stuck" in the middle of South Africa like an island set in the mountainous heights, making it the only country having this specificity. The country also offers views of a series of mountains whose peak can rise to 3000m and green valleys and people with traditional customs mainly in the villages. And in the depths of the country (but 1000m high anyway) you can discover traces of dinosaurs and artcrafts markets. Here too, a day or two are enough in the capital, Maseru, to discover the atmosphere, visit the Catholic Cathedral and easily visit some craft shops and the site of Thaba Bosiu, where King Moshoeshoe won the battle for independence of the country. Continue to Malealea or Semonkong for pony trekking or hiking in the wilderness from villages to villages. Lesotho has many national parks for those who want to live in isolation in nature and I recommend you go to Mokhotlong for the best views and the highest peaks including that of Sani Top at 3257m.

Outro :
Take off to Kruger Park, travel along the Garden Road stopping as many times as possible at different cities and shrines, walking in the footsteps of Nelson Mandela between Soweto and Rubber Island and gaze with astonishment at the end of the continent from the top of Cape Point. Experience South Africa in its entirety ! The quoted route and durations are indicative, days of travel included but feel free to rearrange them according to your desires.



---✈︎



Discover our Lightroom Presets for Mobile & Desktop.
Comments
Leave your comment