Laos | The Travel Guide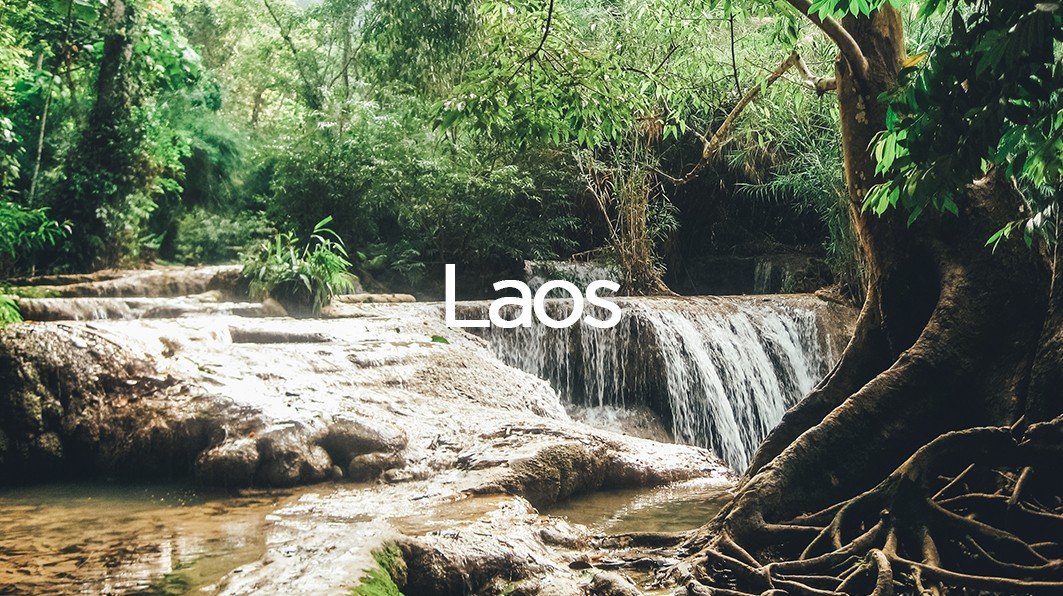 Laos (or Lao PDR) is now one of the must-see places in Southeast Asia and is notably to be done in the Vietnam / Cambodia / Laos triad. The country is attracting more and more travelers who are looking for a more peaceful place than the vibrant Thailand. Laos is certainly much quieter than its Thai neighbor but also has a lot of history and wonders to show you.


⤁ Backpacking Laos ⬵
• Travel tips • Places to visit • Itineraries •
↡

Budget : 15-20$/€ per day
Currency : 1€/1US$ = 1200 Lao kip
Visa: Visa, 30 days for most passports upon arrival at the border.
Sleeping : 6-15 $/€ bed in dormitory / proper double room
Transportation : $5/€ for a 5 hour bus ride.
Food : Green papaya salad, Le Laap, Nem thadeua, Mok, Khao Poun, Ô-Lam...
Weather : Hot from November to May, wet season from June to October.
Religion : Buddhism.
People : Lao people, Hmong, Ko, Iko, Yao,
Music : Lao Folklore, Traditional music, Funk, Rock and Hip-Hop...
Language : Lao and ethnic dialects.
Lexicon :
Hello
How are you doing?
Very well and you?
Thank you
Goodbye to you

Sabai-dii
Sabai-dii bo?
Sabai dii, khop tchai, lè tchao dè?
Khop tchai laï
La kone
** TIPS ITINERARY **

As in all our articles, we try to imagine a more or less coherent itinerary that allows us to see the most important places of the country while keeping a logical route for travelers who want to go from one point to another.
Here, we will start from Vientiane, the capital, which is usually reached via Thailand, to follow to the north and then return to the south through several stages without order of preference or importance. Everyone is free to adapt his or her route according to his or her desires, his or her position of entry and/or exit of the country. (ex: towards Cambodia or Vietnam...)


** TRANSPORT TIPS **

As everywhere in Southeast Asia, the best means of transportation is the bus, whose seat sometimes reclines almost completely to sleep comfortably. The distances between cities being long, and the roads sometimes very bad, prefer night trips which will save you nights in hotels and you will arrive at your destination the next day in good shape.



Vientiane (3/4 day): Pha That Luang - Wat Sisakhet - Wat Phra Keo - Patuxai - Buddha Park...
Vientiane is a small capital city that you will have seen quite quickly. However, it is not less pretty and attractive. It is even a very sweet city, much quieter than BKK and it is very pleasant to walk around. Several places are there to discover starting with the Pha That Luang, the most important monument of the country, covered with gold and built in 1566. It is the emblem of the country. Right next to it, you will have in addition the Wat Neua Thatluang, the revolutionary monument, the statue of King Setthathirath (founder of the city) and the Wat That Khao with its statue of a reclining Buddha. Wat Sisakhet is the oldest temple in Vientiane in a Thai style and Wat Phra Keo a few meters away is also worth a visit. The Patuxai is the Vientiane Arch of Triumph located in Patuxai Park. It's the monument dedicated to the fighters against France for the independence of Laos. Right next to it you will have a musical fountain donated by China and the World Peace Gong.
The Buddha Park is located 25km from Vientiane on the banks of the Mekong River and gathers more than 200 Buddhist and Hindu sculptures. Ultra Mystic. This park was designed in 1958 by a priest/shaman who wanted to merge Buddhist philosophy with Hindu mythology. You will see many statues of Buddha, Vishnu, Shiva, Arjuna and many other figures. MUST DO.


Vang Vieng : (2/3d)
A small village north of Vientaine, Vang Vieng is a perfect stop before the next city. Here, basically, the most popular activities are the following:
- Tubing : that means going down the small Nam Song River in a huge black buoy while stopping at small wooden bars along the way for a beer or snake liquor.
- Spending your day watching episodes of Friends or The Simpsons in the different bars/restos of the village. That's it! Of course, you can eat, drink and do your travel journal at the same time.
It sounds crazy, but basically that's the spirit of Vang Vieng ! There are also tours to see the Blue Lagoon, a small turquoise blue lake, really photogenic, lost in the jungle and some caves to explore nearby. Actually, rent a scooter and ride by yourself.


Luang Prabang: Wat Xieng Thong Temple - Bamboo Bridge - Phu Si Sacred Mountain - Night Market - Kuang Si Waterfalls - Elephant conservation Center (3/4d)
Let's continue north to Luang Prabang, not very big either but which, there too, marvels by its sweetness. The ancient former royal capital is home to the magnificent Wat Xieng Thong Temple with its red and gold decorations, the Bamboo Bridge which is destroyed every year by floods and then rebuilt, and the 100m high Phu Si Sacred Mountain whose summit is reached by its 300 steps. You will have a panoramic view of the city as well as small temples like That Chomsi and Buddha statues.
Outside the city is the Kuang Si waterfalls which is simply a magical and soothing place where you will see all along the path many small waterfalls to finally arrive at the last one, higher, from which you will have two ways to climb to the top. Here you will have a view of the whole mountain and this forest that you have just crossed.
At 2h30 from LP, there is an Elephant Conservation Center dedicated to the protection and reproduction of elephants. No animal exploitation here but an excellent way to get closer to these animals while helping the survival of their species.

Luang Prabang is also the gateway to the north to meet the different ethnic groups of the country such as the Hmong, the Iko, the Ko and the Yao. Many tours are offered there but you can reach the big cities by yourself.

Muang Ngoi Neua (2/3d) - Bokeo (2d) - Nam Nern (2d) :
3 different destinations.
Muang Ngoi is a small village perched on the mountains on the banks of the Nam Ou River. Here we discover a traditional and authentic Laos. Until a few years ago, the village had easy access to electricity.
Bokeo is located near the border with Myanmar and Thailand. It's a nature reserve created in 2004 and it's home to many species such as buffalos, elephants, bears and tigers.
The Nam Nern Safari is only done with a traditional boat tour and will allow you to observe birds and other wildlife such as gibbon, gaur and tiger as well as many medicinal plants.


Savannakhet (2d) :
Let's go down the country to reach Savannakhet, almost halfway across the country. It is the second largest city and is also very peaceful, set on the banks of the Mekong. Here you will have to visit the town itself with its French colonial architecture, the Buddhist site That Ing Hang Stupa, Santa Teresa Church and the Bungva Lake outside the town.


Pakse - Bolaven Plateau (2/3d) :
Heading south, make a stop at Pakse town and then discover the Bolaven Plateau. You can join a tour or rent a scooter and go by yourself. You will see many waterfalls, small traditional villages and green jungle. It is clearly a must-see on a trip to Laos. Do not miss it! From Pakse, take a bus and then a boat to the 4000 islands.


4000 islands & the Mekong (2/3d) :
The 4000 islands are in fact an archipelago of about a hundred islands located on the Mekong River whose Laotian name is Si Phan Don. The smallest one, Don Det, is also the most touristic but the others are just as attractive like Don Khong or Don Khone where there are magnificent waterfalls in which you can swim. On the island of Don Phapheng is the waterfall of Khone Phapheng which is the longest in Southeast Asia extending over 10km.


And more :
We have listed the most important places in the country here but Laos has many more spots to discover. With more and more caves, temples and nature and archaeological sites. This is the case of the Kong Lor cave in the north of the country or Thakhek and Saravan for the Tad Lo waterfalls.


Outro :
Laos is definitely a country to put on your list in Southeast Asia. It is a perfect continuation if you come from Thailand because we continue the adventure in the same spirit, however the atmosphere is more calm, less crazy and we also appreciate this side cut from the world that we can feel in its small villages. Laos is also a gateway to Cambodia or Vietnam and is the perfect combo with these 3 countries. Do the whole thing for yourself !


---✈︎
Comments
Leave your comment