Nepal | The Travel Guide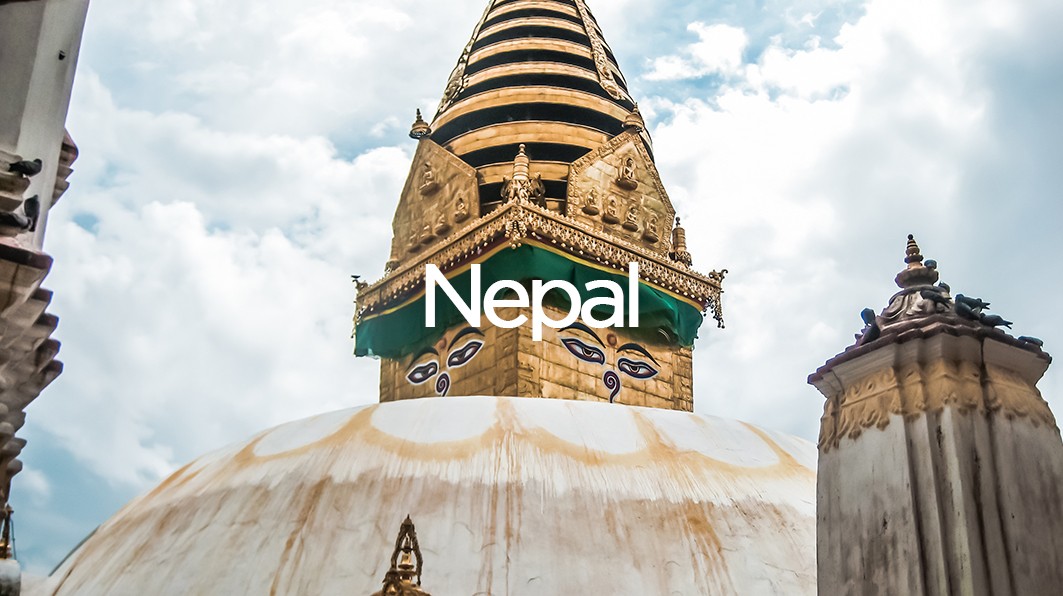 Nature, wide open spaces, temples and Buddhist ceremonies. Nepal is one of those remote countries which, in the common imagination, evokes escape and serenity. The roof of the world is a true haven of peace and an invitation to disconnect, so prepare your bags and discover its nature and its relaxing atmosphere.

⤁ Backpacking Nepal ⬵
• Travel tips • Places to visit • Itineraries •
↡

Budget: 20-35$/€ per day. Plan a large budget for the treks.
Currency: 1€/1US$ = 135 Indian rupees
Visa: 30 days visa upon arrival at the airport/border.
Sleeping: 8-20 $/€ bed in dormitory / double room correct
Transportation: 5-8 $/€ for 4-5h bus ride.
Food: Dal Bhat, Momos, Dhido, Khaja Set, Chatamari, Thukpa,
Weather : Dry season from October to May, wet season from June to September.
Religion: Hinduism, Tibetan Buddhism, Islam, Kirati Mundhum, Christiannism, Sikhism, Jainism,
People: Nepali, Chhetri, Bahun, Magar, Tharu...
Music : Folk Nepali, Traditional music, Ratna music, modern music (Rock Nep-Hop...)
Language : Nepali (or Nepalese) and +120 dialects (Sino-Tibetan languages, Indo-European languages, Dravidian languages,...)
Lexicon :

Hello / Good evening
How are you doing?
Very well and you?
Thank you very much
Goodbye to you
Namaste
San tché tcha ?
Malai sanchai chha, tapai ?
(does not exist in Nepali)
Namaste
** TIPS ROUTE **

As in all our articles, we try to imagine a more or less coherent itinerary that allows us to see the most important places of the country while keeping a logical route for travelers who want to go from one point to another. Here, we will start in Kathmandu and then explore the West and the East by passing through several stages without order of preference or importance. Everyone is free to adapt his route according to his desires, his position of entry and/or exit of the country.

** TRANSPORT TIPS **

The journeys here are done by bus (or plane) and in view of the danger of the roads which are sinuous, we advise to do them during the day, offering a better visibility to the driver.



Kathmandu and the Kathmandu valley (4/5j) :
The capital of the country, Kathmandu is a rather calm city compared to the large cities of India but one finds there this dilapidated environment in the streets (while being definitely less dirty!) It is thus a true pleasure that to walk there and all the center can be done on foot since the historical and alive district of Thamel which is a visit on itself. Climb the 140 steps of the Swayambhunath Stupa, also known as the Monkey Temple, to get a panoramic view of the whole city. Durbar Square is the old city and concentrates many temples and palaces with a rather mystical atmosphere. The Pashupatinath is a golden-roofed temple on the banks of the sacred Bagmati River which only Hindus can enter but you can walk around and see what is happening in the distance. Every day bodies are cremated and scattered in the river so you will see a lot of smoke coming out of the ghats. Ultra mystical atmosphere that can shock the youngest. After all these visits, take time to rest at the Garden of Dreams near Thamel just for its calm.
Bhaktapur is a royal city located a few kilometers from Kathmandu. It is home to Nepal's highest temple, the Nyatyapola, but is best appreciated for its clean and well-maintained cobblestone streets. The entrance is not free (10€) but it is worth the detour for a day. You can also visit the Stupa of Bodnath which is venerated by Tibetans in exile, imposing with its 3 large terraces representing a giant mandala.
Patan is an ancient royal city of the Kathmandu valley in which 1 day visit will delight you with its Durbar Square, its paved streets, its numerous stores and its Hindu temples. The old Royal Palace is now a museum of Nepalese art.
Many mountain bike rides are offered in town to the valleys of Kathmandu with dizzying descents. Here is an original plus to finish in beauty!


Pokhara and Pokhara Valley (2/3d) - Annapurna (1d or more)
Pokhara is the 2nd most touristic city in the country and despite its new city look, it remains a peaceful place to hang out for a few days on the shores of Phewa Tal lake. From here you can see the Machapuchare and Annapurna mountains in the distance at dawn and even get close to them by trekking or mountain biking. Go to the Peace Pagoda, Shanti Stupa, on Ananda Hill for a panoramic view of the city.
Pokhara is also the starting point for excursions to the Annapurna and it would be sad to miss it! From a single day to an 18 day trek, there is something for everyone and you can even rent the equipment from the agencies. You will pass through breathtaking landscapes, rice terraces, forests, small villages, rivers, temples and all this in the middle of these imposing massifs.


Royal Bardia National Park (2/3d) :
Bardia National Park in the in southwest and it's the second protected area after Chitwan (see below), much more remote and difficult to access and therefore a bit neglected by tourists. There are more than 640 species of animals listed here including elephants and Bengal tigers. The safari can be done on foot with a guard armed with a stick, certainly little reassuring but extreme sensations guaranteed!


Lumbini (2d) :
In the south of Nepal is Lumbini at the border with India. This city is none other than the birthplace of Siddharta Gautama, better known as Buddha. Buddhists from all over the world come to worship at the Maya Devi Temple, a UNESCO World Heritage Site. It is a high place of serenity in which you will see the pilgrims plunging their hands in a basin of water in which the mother of Buddha would have bathed before giving birth to him. Many monks chant their prayers around a sacred tree.


Royal Chitwan National Park (2d) :
Chitwan National Park is Nepal's other major park and is home to Asian rhinos as well as Bengal tigers and many other animal species such as elephants, bears, hyenas and leopards, all in a lush jungle. It is best to visit between October and December to see the animals more easily in their environment.


Nagarkot & Dhulikkel (2/3d) :
On your way up the country, you can stop for a few days at the towns of Nagarkot and/or Dhulikkel, which are known for offering incredible views of the Himalayan range and Mount Everest. To be done at dawn if possible at sunrise.


Langtang National Park (1d or +) :
Langtang National Park offers Himalayan scenery less than 100km and less than an hour from Kathmandu. Beautiful mountain views, picturesque villages, pastures, glaciers, and forests: there is a great diversity to enjoy for day to multi-day treks. For those who want to go further, you can even cross the border into Tibet.


Sagarmatha National Park & Mount Everest (up to 18 days):
Meet in the town of Lukla, the starting point for a trek through Sagarmatha Park towards Mount Everest. A 2 weeks trek to discover the roof of the world, the must do for all trekkers. The views are breathtaking and the lodges and Sherpa's are always very welcoming. The best periods are from September to November and April/May.


And more:
For the more adventurous and those with more time, Nepal is still under-explored at its extremities. You can push the journey to Jumla and Shey Phoksunda National Park or Silgadi and Api Nampa Conservation Area in the west. On the eastern side, explore the Kangchenjunga Park from the town of Dhankuta.

Outro:
Nepal is a paradise for trekkers from all over the world with all its parks and mountains which are the highest in the world. Exceptional scenery, remote religious atmosphere, this is a country that makes us feel far away from everything in physical and spiritual height. The perfect place for anyone who needs to get away from it all and recharge their batteries. Namaste.
---✈︎
Comments
Leave your comment