Vietnam | The Travel Guide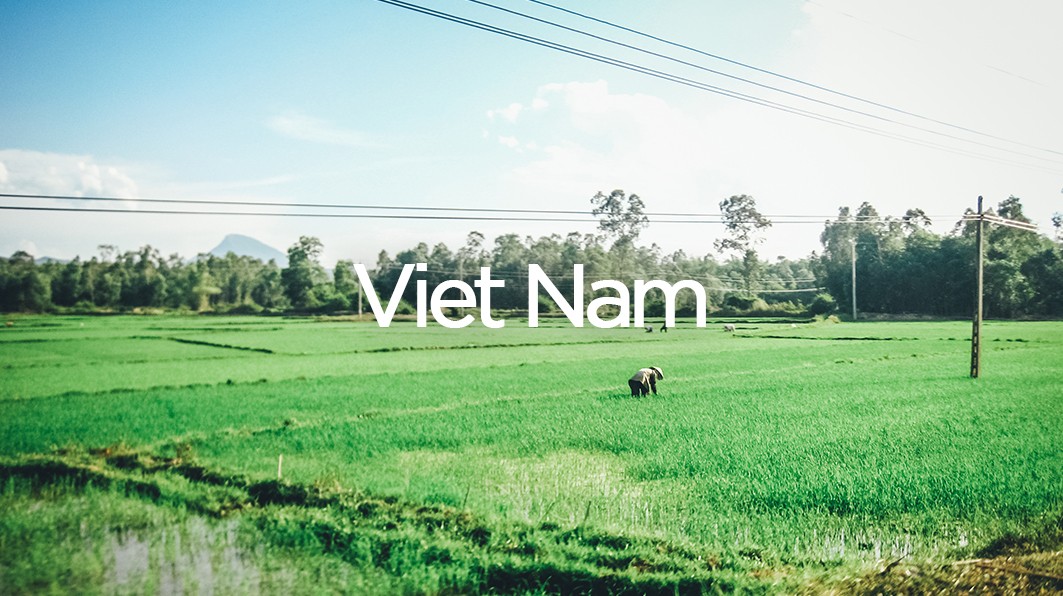 Vietnam is one of the most visited countries in the world, very often with its Southeast Asian neighbors with whom it shares many common points. The country has however its own culture with different beliefs from its neighbors and its own alphabet inherited from the Portuguese Christianization. You will undoubtedly vibrate throughout your stay so savor every moment that is offered to you.

⤁ Backpacking Viet Nam ⬵
• Travel tips • Places to visit • Itineraries •
↡

Budget : 20-35$/€ per day
Currency : 1€/1US$ = 25800 Viet Dong
Visa : Visa, 30 days for most passports upon arrival at the border.
Sleeping : 8-20 $/€ bed in dormitory / proper double room
Transportation : 5-8 $/€ for 4-5h bus ride.
Food : Pho soup, Banh Mi, Le Lau, Bun Cha, Cha Ca, Bun Thit Nuong, Banh Xeo, Cao Lau.
Weather : Hot from November to May, wet season from June to October.
Religion : Traditional religions inspired by Confusionism and Taoism, Buddhism, Christianity,...
People : Viets, Chams, Hmong, Tay, Nung,...
Music : Viet Folklore, Traditional music, Funk, Rock and Hip-Hop.
Language : Vietnamese, English, French, Mandarin.
Lexicon :
Hello / Good evening
How are you doing ?
Very well and you?
Thank you very much
Goodbye to you
Xin Chao
Bạn khoé không?
Rất Khoé, cảm ơn con bạn?
Cảm ơn (nhiều)
Tâm biết
** ITINERARY TIPS **

As with all of our articles, we try to come up with a roughly coherent route that both allows you to see the most important places in the country while maintaining a logical route for travelers to get from one point to another.
Here, we will start from the south of the country, following our article on Cambodia, to go up the whole country to the north passing through several stages without order of preference or importance. Everyone is free to adapt his route according to his desires, his position of entry and/or exit of the country. (e.g.: to/from Laos, Cambodia or China...)

** TRANSPORT TIPS **

As everywhere in Southeast Asia, the best means of transportation is the bus, whose seat sometimes reclines almost completely to sleep comfortably. The distances between cities are not so long but the roads are sometimes very bad, so prefer night trips which will save you hotel nights and you will arrive at your destination the next day in good shape.



Ho Chi Minh City (Saigon) (3/4d) - Mekong Delta - Ben Tre Province - (3/4d)
Let's start this Vietnamese adventure with the biggest city of the country Ho Chi Minh City also called Saigon. A very dynamic city which is more lived than visited with its numerous bars and its intense traffic. You can however discover the few pagodas (Jade Emperor, Bà Thiên Hâu Temple, Quan Am Pagoda), the War Museum, very interesting, as well as the History Museum which retraces 4000 years of Viet culture in a very beautiful French colonial building.
Tours are offered outside the city to the Cu Chi tunnels, these ancient small tunnels dug by the Viet Cong to protect themselves from American bombings during the war of the 70s. To be avoided if you are claustrophobic but on the surface you will also see many traps set. In the same tour, you will also attend the mass of the Cao Dai temple, with its very particular decoration!
You can also book a 2-day tour to the Mekong Delta (4h from HCMC), in a real city on the water with markets, schools and a whole floating life that extends to Cambodia.
Halfway there, the Ben Tre province is full of incredible landscapes with small islands and green vegetation to discover by boat or by bike.


Da Lat - (2/3d)
Da Lat is located in the southern interior of the country and the region is known for its French colonial architecture, lakes, large forests and traditional villages. A very good stop between 2 destinations for a day of trekking for example or just to chill out.


Hoi An (3/4d) - Hue (2d) - Phong Nha Ke Bang Cave :
We arrive here in Hoi An, a traditional village of the country not to be missed. Warm atmosphere despite a huge tourism but the old town is big enough not to feel invaded. Colonial architecture, small Thu Bon river on its edge, traditional cuisine and night lit by lantern. A favorite. Rent a scooter to visit the surroundings like the beaches, the My Son sanctuary or go to Cham Islands.
Still in the north of the country, let's stop 1 day 2 in the imperial city of Hue, just to admire its magnificent citadel. From here you will not be far from the famous Phong Nha Ke Cave as well as the Vinh Moc tunnels of which tours are proposed in town.


**NORTH**

Ninh Binh, Tam Coc & Halong Bay Land - Pu Luong Natural Reserve (2/3d) :
From the small villages of Ninh Binh or Tam Coc, you can reach the magnificent Halong Bay Land to immerse yourself in a sumptuous scenery between mountains, rivers emerging from rice fields and lush vegetation. Very photogenic landscape, perfect for hikes and bike rides.
Further west, in the interior of the country is Pu Luong Natural Reserve, a place mixing rice fields, mountains and tropical forests, perfect to cut yourself off from the world. Trekking and kayaking activities are offered here as well as bicycle rides.

Hanoi (3/4d) :
100km north is Hanoi, the country's capital, very lively with a charming old town where you can put your luggage (Old Quarter). This old center alone is a first visit that you can continue to Hoan Kiem Lake, the epicenter of the city that gathers many of its inhabitants. Other sites to visit are the Temple of Literature and Hanoi University, Ho Chi Minh's Mausoleum, Hoa Lo Prison Museum, St. Joseph's Cathedral and Trân Quoc Pagoda.


Halong Bay (2/3d) - Lan Ha Bay & Cat Ba Island (1/2d) - Co To Island (2d) :
From Hanoi, tours are offered to the famous Halong Bay with its 1600 islets. 2/3 days in the middle of this dreamy scenery registered in the UNESCO heritage. A very touristic place but not to be missed. If you have more time, go to Lan Ha Bay & Cat Ba Island, less popular with the masses.
Extend your stay in the area to spend a few days on Co To Island and relax on the most beautiful beaches of the country with its white sand and forests along the coast. Relaxation is guaranteed before the next adventure.

Then return to Hanoi and head back to the northwest of the country.

Sa Pa Region (2/3d) - Ha Giang & Hoang Su Phi Provence (3d) - Ba Be Lake (2d) - Ban Gioc Waterfalls (1/2d) :
From Hanoi reach Sa Pa Region to start if you want a huge tour in the country's land for intensive and full of discoveries treks. Sa Pa is one of the most touristic attractions of the country for its landscapes composed of rice fields, mountains populated by ethnic minorities and Mount Fansipan, the highest mountain of the country.
- Hoang Su Phi is located in the Ha Giang region and is much less visited than Sa Pa although it is just as beautiful and even more authentic with its Hmong, Tay, Nung & Ha Nhi minorities. You can rent a scooter and go around the area passing by these 2 points and get lost in the surroundings.
- Ba Be Lake is composed of 3 lakes (Pe Lam, Pe Lu & Pe Leng) forming the largest lake in Vietnam. You can discover this mountainous region by bike, kayak or simply by hiking.
- Located in the extreme north of the country near the Chinese border, the Ban Gioc waterfalls are an incredible sight to behold. Very few people hang around here and yet they are worth the detour with their 30m height and 300m width.


And much more: Phu Quoc Island - Con Dao Island - Nha Trang (2 days) - Can Tho (2/3 days) - Mui Ne - Lao Cai - Mu Cang Chai District - Mai Chau District...
We have listed here the craziest places in Vietnam but of course there are still many sites to see if you have more time. Between 2 destinations like Nha Trang or to push even further the vice of discovery with the different islands like Phu Quoc or Con Dao. So many places to escape to that there is something for everyone.


Outro :
Vietnam is a country that can be easily traveled from north to south and vice versa. Everything is there to delight the backpacker as well in the big cities as in the small villages. A country that is often included in the triad Laos / Cambodia / Vietnam or in the whole list of Southeast Asian countries during a world tour. You will come back with your head full!
---✈︎
Comments
Leave your comment