Spain | The Travel Guide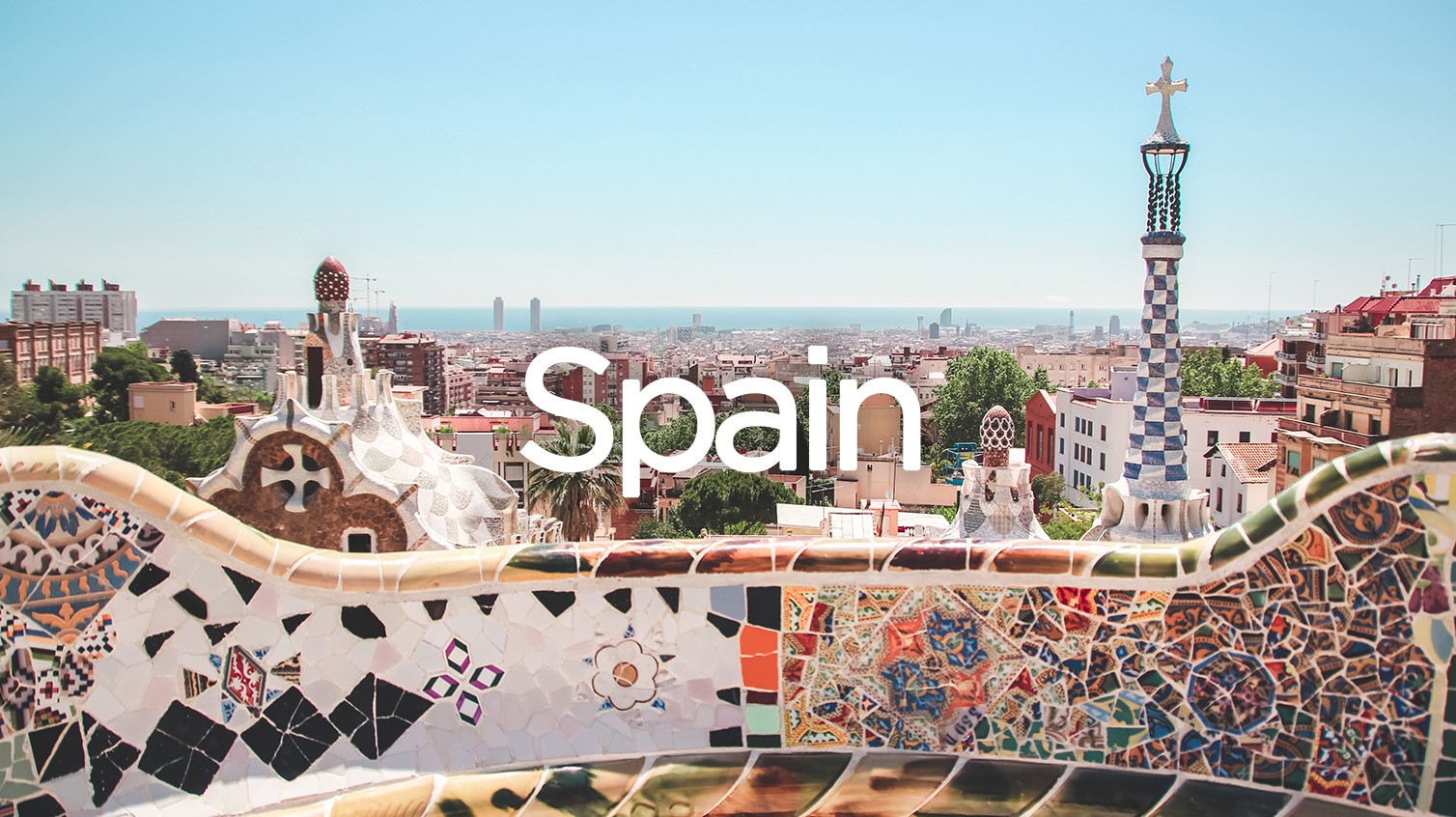 España y Olé ! Sun time, flamenco, religious buildings sometimes unique in the world and the so festive spanish mood. A country so surprisingly marked by its dual history, both Christian and Islamic, whose we can admire traces in its architecture and by migrations that have given it its identity and its own traditions. Bienvenido chicos !


⤁ Backpacking Spain ⬵
• Travel tips • Places to visit • Itineraries •
↡


Budget : 50-90€ per day/person
Currency : 1€ ≈ $1.
Visa : 90 days for most NON-UE nationalities for all the Schengen Area.
Sleeping : 15/35€ for a bed in dormitory. 40-70€ for a single / double room in hostel.
Transportation :  ~ 20€ for bus trip, ~ 30€ for train.
Food : Paella, papas bravas, chorizo, Pata Negra Smoked Ham...
Weather : Hot from April to October. Colder from Nov. to March.
Religion : Mostly Christianity
The people : Spanish people divided sometimes in independent region (Catalans, Basque,...)
Music : Flamenco, Sevillanas, Rumba.
Language : Spanish, Castellano, Catalans, Basque...
Lexicon :

Hello
How are you ?
I'm good and you ?
Please
Thank You
Goodbye
Holà
Todo bien ?
Todo bien y tu ?
Por Favor
Gracias
Adios



Barcelona (3/4d) :
For more informations of Barcelona, ​​read our article just HERE.

Valencia (3d) : Centro histórico - Ciudad de las arte y de las ciensas - Garden of Turia - Playa del Cabañal.
Valencia is a small town on the Mediterranean coast whose historic center is full of fascinating monuments, museums and streets, including Plaza de la Virgen, Lonja de la Sede, Catedral y el Santo Grial, Torres from Serranos, the Mercado Central and other art museums. On the outskirts you will find the Jardín del Turia, which can be explored by bike to reach the retro-futuristic Ciudad de las Artes y de las Ciensas. For a day off, why not join the Playa del Cabañal to regain strength before the next trip !

Alicante (2d) : Barrio de Santa Cruz - Santa Bárbara Castle - Playa del Postiguet.
We mainly go to Alicante for its beaches but it is still a city that has its charm by the old appearance of its Barrio de Santa Cruz where many of its buildings are in ruins. Nice neighborhood to cross to reach the Castillo de Santa Bárbara by its stairs, but there's also a lift in the street Juan Bautista Lafora. Stroll on the Explanada de España, in front of the harbor, to reach Playa del Postiguet.

Granada (3d) : The Alhambra and Generalife - Catedral de Granada - Albayzine.
Granada is a must for anyone planning a tour of Spain. Here is a magical city that testifies to the importance of the Islamic era in the region, overtaken by the Catholic predominance of the kingdom. As soon as you arrive at the hotel, reserve your entrance to the Alhambra and its gardens in Generalife, where you will need a long morning to walk around and admire it all while having a view of the city. PURE WONDER. The historic center is also beautiful with its streets, architecture, squares and monuments including Plaza de Isabel la Católica, Capilla Real and Catedral de Granada, breathtaking outside and inside. Follow the streets randomly up from Albayzineto Sacromonte and discover an atmosphere halfway between the Latin and Maghreb culture, with small labyrinthine streets reminiscent of the Medinas, tea rooms and arab shops, a mosque, gardens and again, another view of the city and on the Alhambra. In the evening, flamenco shows are offered in different restaurants.

** TIPS ** :
Note that Flamenco shows, more or less traditional, are offered in every city you visit.
Malaga / Marbella (2/4d) :
Also well known to tourists for its nightlife and beaches, Malaga still has some historical monuments to discover such as its Catedral, Alcazaba, Teatro Romano or, further up, the Castillo de Gibralfaron. In its center, you will go through Calle Larios, and various other commercial streets where you can eat and go out at night. Modern side, the birthplace of Picasso offers a museum to his name, a walk on the port to the Farola where you will find many pubs and restaurants.
In the same spirit, Marbella offers almost the same type of activity with the Casco Antiguo of Marbella, a typical neighborhood with small streets, bars and craft shops. Near here is the Alcazaba and the walls of the 11th century Castillo, which surrounds the ancient Andalusian city. On the seafront, take a stroll to Avenida del Mar (where you will find 10 sculptures of Salvador Dalí) and Puerto Banús to Parque de la Alameda to disconnect in the green lung of the city.


Ronda (2d) : Puente Nuevo - Centro histórico and Plaza de Toros - Jardines de Cuencas.
One day is enough to see the center of Ronda and its main monument, El Puente Nuevo which you will have to see from several angles to appreciate in all its natural element. The Plaza de Toros de Ronda is one of the oldest and most picturesque squares dating back to 1785, and is a pretty place to visit by strolling through the city center to Plaza Duqesa de Parcent. Other ancient sites to visit are the Baños Arabes, the Palacio de Mondragón, the Palacio del Rey Moro and La Mina and the Jardines de Cuencas.

Cádiz (3d) : Torre Tavira - Cathedral of Cádiz - Barrios de Pópulo and Viña - Playa de la Caleta.
The city which is rightly called "the twin of Havana" in Cuba really has something to please. Cádiz is sumptuous and really makes a difference by its distance. Let's start with the Torre Tavira where you will have a panoramic view of the city and its monuments and then the Catedral de Cádiz which also offers a view in addition to the visit of the building and its depths. The barrio de Pópulo is on the oldest side of the city and stands out for its medieval architecture, while the Barrio de la Viña is best known for its ornate, decorated streets, bars and shops. Anyway it is a pleasure to travel the city along its length to the coast and return to the Playa de la Caleta on which to admire an umpteenth sunset. Assured crush.

Seville (3d) : Catedral de Sevilla and the Giralda - El Alcázar de Sevilla - Casa Pilatos - Plaza de España - Torre del Oro.
Huge crush for Seville with its typical Andalusian streets and its churches, whose churches are not lacking. You can't go through this city without visiting the Catedral de Sevilla and La Giralda tower. Huge and impressive buildings located in the center of the city whose interior is even more surprising, especially as the remains of Christopher Columbus rest in a majestic tomb. MUST DO. You can't miss either El Alcázar de Sevilla, which like all the alcazars of the country, you will be able to admire an architecture and an Islamic art as well as labyrinthine gardens. Another perfection not to be missed. Take the opportunity to visit Casa Pilatos and its Damascus Patio, which is also a jewel of the city and crown it all with the Plaza de España, another MUST DO of the city with its circular square decorated with azulejos and its small pond. Of course, the visit of the city in its entirety is to go through the Jewish district of Santa Cruz, the edges of Rio Guadalquivirand still some places like the Torre de Oro, the Parque de Maria Luisa or the Plaza de la Encarnación. Heart stroke.

Córdoba (2d) : Mezquita-Catedral de Córdoba - Alcázar - Barrio de la Juderia.
We are not surprised to be surprised by so much historical cultural and architectural wealth. Córdoba will also give you a good view with its jewel, its centerpiece, its Mezquita-Catedral de Córdoba, unique in the world. UNIQUE. IN. THE. WORLD. It was above all a Roman temple, became a church and then a mosque by the Umayyad dynasty of Syria, and was finally converted into a cathedral in the 13th century during the Reconquista by King Ferdinand III of Castile. And what a cathedral ! This mixture of arts and faith offers us a marvel that we must not miss in any case. You will find the Alcázar and its gardens really close to the Cathedral in which a walk is also required. Then lose yourself in the streets of Cordoba through the Barrio de la Juderia and visit the casa sefarad and the statue of Maimonides to learn more about the Jewish community of the time. Go through the Triunfo of San Rafael and the Puente Romano for more ballad and chill on the edge of the Guadalquivir.

** TIPS ** :
We recommend visiting Córdoba during May ferias. It's a pure madness organized with illuminations and flamenco dance shows with traditional clothes in which all Spain is reunited to dance. LOCURA ! Visit www.turismodecordoba.org for more information.
Toledo (2d) : Catedral y Alcázar de Toledo - Sinagoga del Tránsito - Monastery of San Juan de los Reyes - Plaza Zocodover - Zocotren.
Let's be clear. A visit to a Spanish city without going through its Catedral or Alcázar is not a real visit. Once this is said, other places are also interesting including the Sinagoga del Tránsito and its museo sefaradi which is worth seeing for its prayer room. Also in the barrio de la judería, the Monasterio de San Juan de los Reyes is also to be seen for its colorful interior gardens and for its architecture. It had to be at the base the Mausoleum of Isabel and Fernando the Catholics, that is to say the importance that they represent. Take full advantage of the city by lurking towards Plaza Zocodover and its adjacent streets and to take the height, opt for the Zocotren (€ 5.5 / 1h) that will take you outside the city to take your picture.

Madrid (3d) : Palacio Real de Madrid and Catedral de la Almuneda - Puerta Del Sol - Plaza Mayor - Palacio Santa Cruz - Museo Del Prado - El Retiro Park - Gran Via...
As any capital, Madrid is to explore from top to bottom, East to the West, from North to South, getting lost among its barrios, its plazas and Gran Via. However, try to keep your way to the Palacio Real which was once the residence of kings and where we can see how they lived. The Catedral de la Almuneda is just opposite and differs from other cathedrals in a neoclassical style, very colorful and rectilinear. More in the center, Plaza Mayor in which one realizes executions is today a center of artisanal shops, bars and restaurants. At the Puerta del Sol is the kilometer 0 of Madrid, the starting point of any distance from Spain as well as the statue of the Bear and the fruit, symbol of the capital. Do not miss the Museo Del Prado which offers permanent and temporary exhibitions and a good ballad (or a good chill !) at the Parque de El Retiro where you can also land on a boat facing the Monumento Alfonso XII.

Salamanca (2d) : Plaza Mayor - Casa de las Conchas - Facade of the Universidad - Palacio de Monterrey.
Salamanca also has its Plaza Mayor and it is impossible to visit this city without going through its 88 porticoes and its historic cafes like the Novelty. Not far from here you can see the Casa de las Conchas, whose facade is decorated with more than 300 shells, but which is also a cultural landmark where you can find events such as poetic stories or other artistic performances. A few meters away is the oldest university in Spain (and one of the oldest in Europe) whose facade itself is a real sculpted work of art. If you have time, continue to explore the historic center through Huerto de Calixto y Melibea and Casa Lis, the current museum of art nouveau and deco.

Santiago de Compostel (2d) :
The Catedral de Santiago is the main monument to visit in the city and impresses... like all the cathedrals of the country. One day is enough to visit the city through the Praza da Inmaculada and Praza de Cervantes to finally reach the street Casas Reais, entry point of the path of San Tiago de Compostela. You can go to Parque de Bonoval for a green walk or head to La Alameda for a better view of the city and its cathedral.

Outro :
Spain is a treasure of history in which one never tires of discovering even if it may seem repetitive from its quantity of cathedrals or alcazars. It's always a different enchantment depending on the city or region. Whether for its architecture, its landscape or its nightlife, the country has everything to make your journey unforgettable. The durations are indicative but, of course, free to you to manage your time according to your wishes. VALE !



---✈︎



Discover our Lightroom Presets for Mobile & Desktop.
Comments
Leave your comment