Chile | The Travel Guide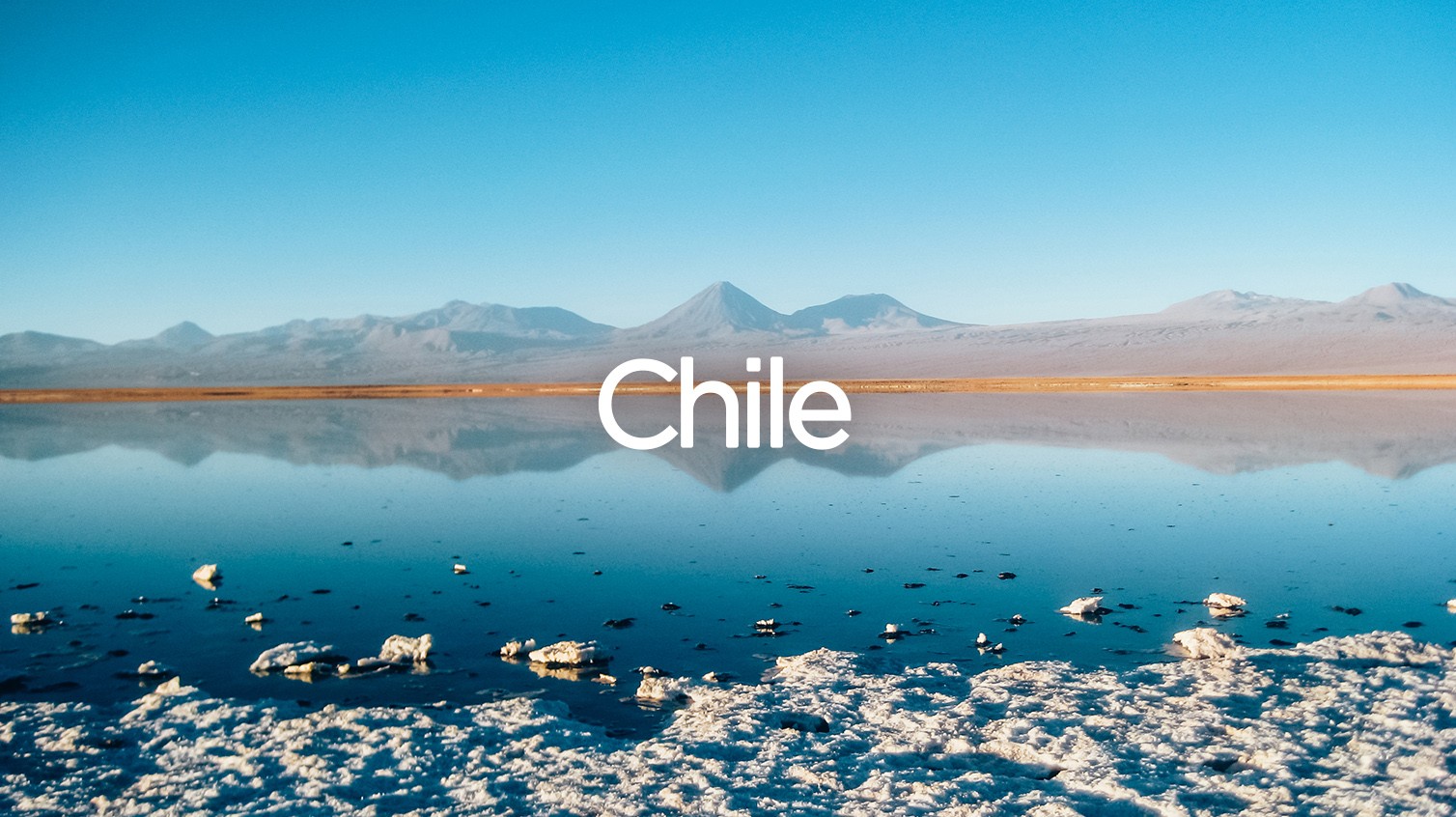 Bienvenidos a Chile! Like its neighbor Argentina, it is one of the most visited countries on a world tour and just like this one, it offers a wide variety of settings ranging from the coldest ice to the most arid deserts. A country with a strange shape, thin and long, it's also a land filled with history and myths, whether from the pre-Columbian period or on the famous Easter Island. Ai VAMOS !


⤁ Backpacking Chile ⬵
• Travel tips • Places to visit • Itineraries •
↡

Budget: 30$/€ per day
Currency: 1€ / 1US$ = 865 Chilean Peso
Visa: No visa, 90 days for most passports.
Sleep: 10-40 $ / € bed in dormitory / correct double room
Transport: 5$/€ for a Santiago / Valparaiso Bus. (check www.recorrido.cl)
Food: Empanadas, Sopapilla, Asado, Churrasco,
Weather: Hot from November to May, cold from June to October.
Religion: Christianity for the great majority, syncretism,
The people: Chilean of European origin, The Mapuches, The Guaranis and many others.
Music: Chilean Cumbia, Cueca, Jazz, Andean Music, Chilean Folklore
Language: Spanish, Quechua, Guaranis, Mapuche,etc...
Glossary:
Hello
How are you ?
I'm good and you ?
Please
Thank you (very much)
Goodbye


Idiot !

Buen dia
Todo bien?
Todo bien y vos?
Por favor
(Muchas) Gracias
Adios
HUEVON! (Widely used in a friendly way)
** ROUTE TIPS **
Just like in all of our articles, we try to imagine a more or less coherent route that allows both to see the most important places of the country while maintaining a logical route for travelers who want to get from point to another. So there's no order of preference or importance here but a route from the capital Santiago de Chile (STGO), leaving for the discovery of the north and then the south. You can arrive in Chile from the south of Argentina at Punta Arenas or from the north to Putre or Atacama coming from Peru, Bolivia or also Argentina, and in this case the descent or ascent of the country is done by all simplicity and logic. Some will arrive via Easter Island from Polynesia. Everyone is free to adapt their course according to their position and preferences.
** TRANSPORT TIPS **
As everywhere in South America, the best means of transportation are coaches whose seats recline almost completely to sleep comfortably. The distances between cities are long, prefer overnight trips which will save you hotel nights and you will arrive at your destination the next day in good shape. It is accessible to all budgets, we provide you a blanket and a meal tray like in airplanes. Dope service !

Santiago de Chile (3d): Centro historico, Metropolitan Cathedral, Museums, Barrio Bellavista, Cerro San Cristobal - Easter Island (5 / 6d) - Valparaiso (2 / 3d).
Santiago de Chile (STGO) is not as powerful a capital as Buenos Aires or Rio de Janeiro, it is true, but it's still very active and has a cultural place not be missed. 3 days should be enough to discover its historic center built by the Spaniards in the 16th century with its imposing Catedral Metropolitana, the Museo de história nacionale, the Casa Colorada and the Muséo de Arte pre-Columbian, 100m from the Plaza de las Armas.
Then chill out for an afternoon at Barrio Bellavista and its rua Pio Nono to discover its colorful little houses, art galleries and creative workshops as well as La Chascona, the house of the famous poet Pablo Neruda transformed into a museum. Take the opportunity to sit there in a bar or restaurant in the evening. An enjoying moment. Other museums are worth visiting such as the Museo de Bellas Artes at Parque Florestal and the Palacio de Bellos Artes which houses the Museo de Arte Contemporaneo.
Let's take the height to Cerro San Cristobal and its Virgin Mary at its summit to have a 360° view of STGO and the Andes Cordillera in the background. Incredible view and mix between urban and mountain but unfortunately too often marred by the pollution of the city. To do on foot or by funicular.
Once you've enjoyed STGO, fly straight to Easter Island. It will be a good thing done and a must in Chile. Round trip from the capital to Hanga Roa 3700km from the Chilean coast. On the program of course, the visit of the sites of the mysterious Moaï statues, these enormous heads carved in stone and buried up to the shoulders that can be done on foot, by bike or on horseback. This is obviously the main activity of the island, but take advantage of being away from it to spend days at the beach, scuba diving, or hiking on the Poike volcano.
Return to STGO and direction Valparaiso on the coast to chill out in the cultural capital of the country listed as a UNESCO World Heritage Site. A city with many cerros which overlooks the largest port in the country in which you have to get lost in these streets filled with street art. A city of artists, a bohemian city, a true cultural labyrinth in a truly relaxing vibe.

-- NORTH --

Vicuna / Elqui Valley (2d) - Parque Nacional Pan de Azucar (2d).
Let's tackle the north with the town of Vicuna from which we can walk around the Valle de Elqui region. A brandy called El Pisco is produced here and a bike ride from village to village will take you through its green vineyards against a backdrop of mountainous scenery. At night, we discover a sublime starry sky and various observatories offer guided tours with telescopes.

Return to a lot of authenticity here with a very little touristy place which you will have to get either by rented car or by taxi. The Parque nacional Pan de Azucar is located north of Chanaral and overlooks the turquoise waters of the Pacific, contrasting with its desert atmosphere of cacti and stony paths in orange colors. Hikes and bike rides are prosposed there to admire panoramic views and on the coast, fishermen offer to take you to the island of Pan de Azucar where a fauna has settled there.

San Pedro de Atacama: Atacama desert, Geyser del tatio, (4d).
MUST DO of Chile, the Atacama Desert with its many expeditions and natural wonders. The small village of San Pedro de Atacama is incredibly charming and despite the tourism, you really feel like you are far from everything in this desert where water is so precious. (Don't delay in the shower!). Here you'll need 4 busy days so go straight to the many tour operators to not lose a second. On the program: Volcano, Lagunas, Salinas, Ojos del sol, Geyser del Tatio, night star observation and even see an expedition to the Salar de Uyuni in Bolivia. 4 busy days, you will be exhausted but blown away. San Pedro is 23 hours by bus from STGO.

Arica: Putre & Parque Nacional Lauca.
In the far north of Chile is the town of Arica, from which you can join or organize an expedition to Putre 150km away, then go to the sublime Parque Nacional Lauca and admire its Parinacota volcano covered with its eternal snow, and bordered by its lago Chungara. You will also see many animals such as llamas, alpacas or other vicuñas ... Around Putre, you have many fascinating panoramas such as the Salar de Surire and the Las Vicunas reserve or multiclore canyons and mountains.




With this great tour of northern Chile, you can cross the border to Peru or Bolivia if you end up in Atacama. For the discovery of the south, return to STGO and why not flying directly from Arica or Atacama to have the sight of the eagle of the country, after having the sight of the ant.
-- SOUTH --

Pichilemu & Punta de Lobos (1/2d).
3 hours from STGO by bus, is Pichilemu, a small village on the coast, which has become a must for surfers with its spots such as the Punta de Lobos, the most famous of them. If not for water sports, the place is still really cool to chill before the next destination and to shoot some photos with its beach and cacti.


Parque Nacional Conguillio (1 / 2d) - Pucon & Parque Nacional Huerquehue (2/3).
Further south, near the town of Temuco, is El Parque Nacional Conguillio, accessible by bus but easiest by car. It is a part of the region of the lakes that is still too little known but in which you can observe many canyons, lakes, forests and volcanoes including El Llama with its smoking summit. When hiking, you will probably go through the Sierra Nevada trail that will take you to Lago Conguillo.
Also part of the Lake District, Pucon is based on the shores of Lago Villarica and in summer it becomes a small seaside resort that offers rafting, horse riding and parachuting activities. The Huerquehue National Park is 35km away and several trails are easily accessible to hikers to discover this mountainous landscape such as the Sendero de Los Lagos loop, the ascent of the volcano or even take the direction of the Mirador El Cani from the village of Pichare. Note that in winter, skiing becomes practicable!

Puerto Varas (2d) - Isla Grande De Chiloe (3d).
Further south, Puerto Varas is a small town located on the shores of Lago del Llanquihue and close to the Osorno volcano that can be accessed by hiking. It's a city that was taken by German settlers around 1900 and whose architecture reminds us of that time.

Return to the coast to the Island of Chiloé, easily accessible from the main town of Castro. It was reached by a ferry that connects it to the mainland at Pargua (with bus or car). Here, one is disoriented from the rest of Chile by the UNESCO-listed wooden churches and colorful houses built on stilts. The site is known to be the breeding ground for penguins and the migration of blue whales and owes its success to the many spots that allow you to see all this maritime fauna.

Futaleufu (2d) - Cerro Castillo National Reserve (4d)
Let's take the mainland road to the south, stopping at Futaleufu a few kilometers from the Argentinian border. Here the name of the small town means "big river" in the Mapuche language and it is known to welcome those who love rafting and kayaking who come to confront the river which borders it. There is something for all levels but you can also just gain height with hikes around. Further south, we go to Coyhaique to continue to the Cerro Castillo National Reserve, in which are offered hikes of 1 to 4 days. Breathtaking panorama that can compete with Torres Del Paine in which to discover lagoons, valleys carved by rivers and then glaciers.

Puerto Rio Tranquilo y Catedral de Marmol (1 / 2d) - Parque Nacional de Patagonia y Valle Chacabuco (2d) - Caleta Tortel (2d).
For more Glacier, take a detour to the small village Puerto Rio Tranquilo near Lago General Carrera, which offers kayak or rowboat trips to the Catedral de Mormol. You will then be immersed in shades of blue for guaranteed wonder. Let's continue in the new Parque Nacional Patagonia, opened in the early 2000s and located in the Valle Chacabuco. Here, a multitude of settings are available to you with cliffs, lakes and glaciers as well as a variety of fauna including the "Huemules", an endemic and protected deer. Crazy panorama like every park in the region. 2-3 days of chill allowed in Caleta Tortel which is located in the fjords of Chile. You will have to make a small detour from the southern road to land in this small village on stilts whose streets are wooden walkways and stairs. We are there for the context and the landscape before the next destination.

Parque Nacional Torres Del Paine.
Another MUST DO in Chile is the Parque Nacional Torres Del Paine, of which these 3 huge granite blocks are the perfect symbol. Several trails are possible for experienced hikers or not ranging from 4-5 days (Trek W) to 8-10 days (Trek O). Otherwise 2-3 days will be enough if you just want to sleep and chill in the camps and shelters of the park, very popular during the summer (Jan / Feb). You will still have access to sublime views of El Lago Pehoe and the Gray Glacier. We arrive at the park by Puerto Natales which is 90km away and which offers shuttle buses or car rentals.

Puerto William - Cape Horn (3d).
We thus arrive at Puerto William, the southernmost city in the world, south of the Beagle Channel and therefore further south of Ushuaia in Argentina (which can also be seen in the distance) despite its reputation as "Fin del Mundo ". A distant land that intrigues and that will attract travelers who want to experience this feeling of solitude. The trip is difficult and more expensive since you have to get there by ferry from Punta Arenas (1 per week) and you can then reach Ushuaia by boat if you decide to go up through the neighboring country. Before that, take time to organize a mini cruise to Cape Horn or a hike on the Dientes de Navarino path for crazy memories. A trek which, however, is for experienced people because all activities are highly dependent on the weather.

And more :
From north to south and south to north, Chile is full of still little-known landscapes and there are always beautiful places to explore such as the Parque Nacional Tres Cruces in the north or even the small towns mentioned above as a point of falls or neighboring town of a larger destination such as Coyhaique, Puerto Natales, Viña Del Mar and many others.
As presented in the intro, if you end your trip in Puerto William, you can begin your crossing of Argentina up to Patagonia. If you end up in the north, there are several doors open to you: Peru, Bolivia, Argentina via Jujuy and Salta! Every road is different. Each trip is unique and we invite you to create your itinerary according to your preferences.

Outro :
Just like in Argentina, the distances are long in Chile and here too we realize that the path is part of the journey and that you have to know how to appreciate it as much as the destination. Some places are difficult to access and yet they are sometimes the best and reveal beautiful surprises and strong emotions. From glacier to desert, from cold to hot, from white to colorful, enjoy every moment of your journey, every meeting and every place in which you will get lost. Saludos viajeros!
Exit To Chile - The mix
For long journeys by night or day or for relaxing moments in a small spot in Chile, discover our mix of 1 hour of Chillian music. Download for free HERE and to listen right there!



---✈︎
Comments
Leave your comment