Peru | The Travel Guide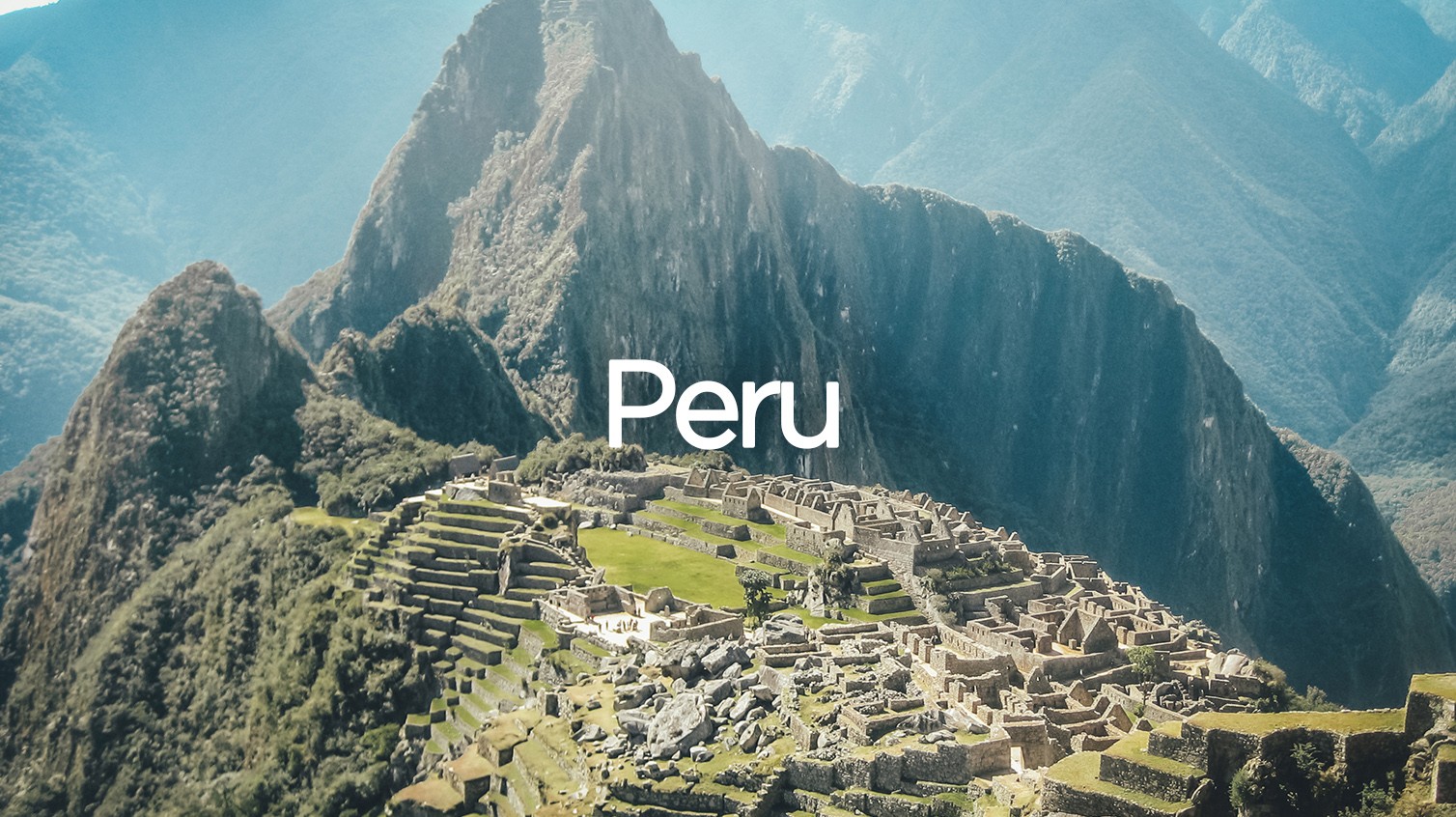 Peru is an unmissable in South America and around the world, just like Egypt or Cambodia, and of course for its Inca ruins and for the mysticism that these lands produce. Machu Picchu at the top of the sites to see but also for other many treasures that we will detail in this article. Immerse yourself in its breathtaking scenery and relive the era of the Incas through their many construction traces.


⤁ Backpacking Peru ⬵
• Travel tips • Places to visit • Itineraries •
↡

Budget: 30$/€ per day
Currency: 1€/1US$ = 4.30 peruvian soles (PEN)
Visa: No visa, 90 days for most passports.
Sleep: 10-30 $/€ bed in dormitory / correct double room
Transport: 30 $/€ for a coach Cusco / Lima (21h).
Food: Anticuchos, el Cuy, el Ceviche, Los Picarones, Inca Kola, El Pisco Sour,
Weather: Hot from November to May, cold from June to October.
Religion: Christianity for the great majority, syncretism,
The people: Quechuas, Aymara, amerindieans and europeans mix,
Music: Cumbia péruvienne, Chicha, Rock, Folklore,...
Language: Espagnol, Quechua, Aru, Arahuaca, jíbaro, etc…
Glossary: 
Hello


How are you ?
I'm good and you ?
Please


Thank you

(Very much)


Goodbye

Buen dia


Todo bien?




Todo bien y vos?




Por favor




(Muchas) Gracias




Adiós



** ROUTE TIPS **
As in all of our articles, we try to imagine a more or less coherent route that allows both to see the most important places of the country while maintaining a logical route for travelers who want to get from point to point. other. Here, to follow logically with our article from Bolivia, we will start the route by Lake Titicaca then go up towards Lima, then north, going through several stages in no order of preference or importance. Everyone is free to adapt their course according to their entry position and their desires.
** TRANSPORT TIPS **
As everywhere in South America, the best means of transportation are coaches whose seats recline almost completely to sleep comfortably. The distances between cities being long, and the roads sometimes very bad, prefer overnight trips which will save you hotel nights and which you will arrive at your destination the next day in good shape.

Puno - Lago Titicaca - Sillustani & Cutimbo. (3d).
Whether you are coming from another city in Peru or Bolivia, you will need to drop your luggage in Puno to see the various sites around. It's not a very beautiful city, but if you have a few hours, go to the Plaza de Las Armas, the Cathedral of Puno and the Cada del Corregidor, a 17th century house with a café with patio. You can walk on the main avenue Jiron Lima as well as go to the various viewpoints Puma Uta, Huajsapata & Kuntur Wasi for 360° views but don't forget to go to an agency for tours to Titicaca the next day.
For excursions to Lake Titicaca you will pass through several points such as Las Islas Uros, 80 artificial islands built of reeds (totora), the largest of which has a church and a football field. There is also Las islas Titinos in the same style and much less touristy since they are further away. Also other islands like Isla Taquile with its agricultural terraces Isla Amantani, the larger Peruvian side. Other places, even less touristy, will offer you different views of the lake such as the Capachica peninsula, the Socca peninsula and many other places.
Around Puno are archaeological sites such as Sillustani, a funeral site built by the Kolla people between the 13th and 15th centuries and then recover by the Incas. You will find 90 circular tombs (Chullpas) in which the dead were mummified. Another burial site, Cutimbo, which once belonged to the Lupacas, the Collas and the Incas.

Arequipa - Colca Canyon (3d).
The second most populous city and one of the most beautiful in Peru, Arequipa, nicknamed the "Ciudad Blanca", is located at 2335m altitude and is surrounded by the volcanoes Misti, Chachani and Pichu Pichu. You can stroll through Plaza das Armas and visit the Cathedral of Arequipa without forgetting its bell tower for a city view (10soles). At noon begins a free 2-hour city tour at Plaza San Francisco for a tour of the historic center and other surprises. The Covento Santa Catalina is the largest in the world and the largest religious building in Peru. It's a stunning electric blue and it takes well 2 hours to visit it with a guide but also by yourself by losing you in its alleys. The Museo Santuarios Andinos will tell you a lot about the history of the region, notably with the mummy of Juanita (the daughter of the glaciers) offered as an present to the Apus gods, at the Ampato volcano (6300m). Finally, go up to Mirador Yanahuar, for the best view of the city and its volcanoes for a sunset and think of chilling downtown at night.
Take a good day trip to Cayon de Colca, one of the deepest in the world. You will see a sumptuous and varied landscape, El Rio Colca, terraced cultures, the Salinas Aguada Blancas and many volcanoes (Ampato, Hualca Hualca, Huarancante...), the Mirador Cruz del Condor which faces the Mismi Volcano, source of the Amazon as well as villages like Chivay, Cabanaconde, Yanque. Note that there are 1 to 4 day treks for the more athletic, departing from Cabanaconde.

Cuzco & MachuPicchu (4-7d): Valle Sagrada de los Incas, Ollantaytambo - Vinicunca - Salinas de Maras - Mercado de Písac - Parque Nacional de Manú.
HUGE HUGE HUGE piece of the country and the continent. Cuzco is the starting point for several wonders in the surroundings, including the unmissable Inca city. Let's first take advantage of a day or 2 in Cuzco to feel the atmosphere (always) at the Plaza de Armas and its adjacent streets and the enormous Cathedral of Cuzco built on the palace of the Inca Emperor Wiracocha and as well as the Iglesia de la Compañia de Jesus built on that of Huayna Capac. Opposite the Plazoleta Espinar is the Iglesia y Covento de la Merced, an imposing building and museum that contains numerous religious pieces. At Calle Hatun Rumiyoc, there is an Inca building curiosity, the Piedra de los 12 angulos in a very thick wall of perfectly cut blocks that fit together without cement. La Coricancha (= enclosure of gold) was the most sacred temple of the Inca Empire dedicated to the Sun God and was covered with gold, silver and precious stones and was taken over by the Spanish who built El Covento San Domingo in the 16th century. To chill, hang out in the San Blas district with its Plazoleta San Blas and its adjacent streets, boutiques, art gallery and coffee shop.
Around the city, there are already several Inca ruins to give you a glimpse and viewpoints of Cuzco like Christo Blanco, near the Sacsayhuaman fortress. In all this wander, do not forget to choose an agency and a tour for Machu Picchu. We are still here for that!


2 ways to get to this famous Machu Picchu:
• By minivan, 2-day organized tour with guide who will take you through the Valle Sagrada with its agricultural terraces, through the small village of Ollantaytambo and finally the small village of Aguas Calientes which is located down the Machu Picchu, to sleep there at night. Local atmosphere, calm despite the tourism. The next morning, take a shuttle to Machu Picchu to spend a good part of the day there and discover each place with or without a guide but we definitely recommend it anyway to understand the ciudad! The Wayna Picchu has a limit of visits per day, so be sure to leave early so you can get to the top and see the citadel from above with its bird shape. PURE AND REAL BLAST! INCREDIBLE. ECSTASY. For the rest of the day / evening, you can chill out in Aguas Calientes village and enjoy its hot waters. The next day, return by train to Cuzco which allows you to review the landscape in another way.
• By the Inca Trail / Camino Inca (2 or 4 days) which passes through part of the Inca network which once linked Peru, Ecuador, Bolivia, Argentina and Chile over more than 30,000km. It is an unforgettable experience and one that allows you to see a good number of landscapes before arriving at the famous citadel.

There is really a multitude of possible treks around Cuzco and many other activities, so do not hesitate to get information from the hostels, bars or agency in town.
From Cuzco, you can also visit Las Salinas de Maras 50km away. You can interact with the peasants who collect salt there and take a picture of a very photogenic place. Another wonder from the city, Vinicunca or the Rainbow Mountain whose agencies offer tours of one or two days or which is also done via the Ausangate trek in the Cordillera de Vilcanota. Beware of mountain sickness, here we climb to an altitude of 5000m. The Mercado de Písac in the town of the same name a few km from Cuzco is one of the most beautiful in Peru if you have a little more time in the region and also consider taking a tour with a guide to the Parque Nacional de Manú to immerse you time 2/3 days in the Peruvian Amazon and see the local fauna including the jaguar.

Nazca (3d): Las liñas de Nazca, Cementerio de Chauchilla, Cahauchi, Cantalloc...
The city of Nazca owes its name to the Nazca people who inhabited the region before being conquered by the Incas between -200 BC and 600 AD. The main attraction, of course, is the Nazca Lines drawn in the mountains and depicting figures of a monkey, bird, lizard, condor, flower, spider, hummingbird, condor, hands and a human figure. According to some theories, the lines were drawn to be seen from the sky by the gods, notably the water gods, being important in this arid region. Others think of some kind of astronomical observatory and some think that it is more simply a representation of certain constellations. We fly over them in a small plane (80-120 $ p / pers) between 7am and 4:30 pm for 30min and thus see 12 figures. The taxi to the airport costs 4 soles. There is also an observation tower 20km from the city for those who do not want to fly. For 2 to 3 soles by bus heading north (stop at the tower) and 2 soles for the viewpoint, you can distinguish the figures of the tree, the lizard and the hands.
30 km from the city, you can visit the Cementerio de Chauchilla which dates from the year 900, some mummies of which still have some hair on their heads. ($ 30 to $ 35 on excursion). Note that this is where the cemetery scene takes place in Indiana Jones 4. In Nazca itself, you have the excellent Museo Didactico Antonini which features numerous Nazca artefacts as well as reprocessed graves. Other places outside the city should be visited if you have more time, such as Cahuachi, a place of pilgrimage whose ruins you can see or the Cantalloc Aqueducts which allowed water to be transported inland and much more other historic sites as well.

Ica & Oasis of Huacachina (2d) - Pisco & Islas Ballestas (1d) - San Bartolo & Mausoleums of Revash.
Before reaching the Oasis, you will have to pass through the city of Ica, where you can visit the Museo regionale d´Ica, Museo de Piedras Grabadas, and chill out in the Plaza de Armas. Then go to the Oasis of Huacachina where you can of course sleep there and practice many activities in this surreal place: dune buggy, sandboard, boat on the lake ... You can get there by yourself or in an agency (which includes the buggy and the sandboard) from Ica, (or even Lima, 4h30 drive).
Going up towards Lima, you can mark a stop to the town of Pisco and then go by boat to Las Islas Ballestas and admire sea lions and access cliffs to enjoy several viewpoints on the landscape.
A last stop before the capital at the village of San Bartolo to then take your ticket to the Mausoleums of Revash, a funeral site carved into the rock in the heights of the cliffs and which would have housed several mummies.

Lima & Caral (3d): Miraflores - Huaca Pucllana - Barranco - Plaza San Martin - Cerro San Cristobal.
Here we are in the capital of Peru, Lima, and the first district to see is Miraflores which overlook the coast, the most beautiful and the safest. You will pass by the Parque del Amor with its quotes from Peruvian poets and the sculpture "El Beso" by artist Victor Delfin. At the bottom of the cliffs you will see surfers all day long as well as paragliders. Parque Kennedy brings together a multitude of artists, painters, singers, musicians and poets hanging out on weekends. Continue to Huaca Pucllana, a religious archaeological site once occupied by the Lima, Wari, Yschma and finally Inca civilizations, and which is visited with a guide. The Barranco district with its Saenz Peña street is worth a detour with bars, shops, museums and street arts as well as Calle Cajamarca, very colorful with frescoes and VW combis. From Plaza de Armas de Barranco, you can reach El Puente de los Recordes to have good views of the sunset of Lima. On the cultural side, the Museo Larco, located in the barrio de Pueblo Libre, is one of the most important in the country with a pre-Columbian collection spanning over 4,000 years of history. (30soles). A little chill at Plaza San Martin, dedicated to the man who declared the independence of Peru before continuing through Jiron de la Union Street to Plaza de Armas with its many religious buildings: Iglesia de la Merced, Catédral de Lima and Monasterio San Francisco. Go to Cerro San Cristobal to see Lima from above and whose 20m cross was erected there in 1535 when the city was captured by Francisco Pizarro. Urbanitos (small buses) take you there from Plaza de Armas. (5soles) For a night out in Lima, head to Circuito Magico del Agua, a network of 13 fountains that light up when night falls. To do for a simple walk and sound and light shows of regional dances are presented at 7.15 p.m., 8.25 p.m. and 9.30 p.m.
Caral is an archaeological site 3 hours north of Lima. You can take an excursion for the day or go by yourself to the town of Barranca (and why not land there) then go to the village of Supe (stop near the Supé market) and take other colectivos (minibus) or shared taxi to the Caral site. It is the oldest city in the Americas built over 5,000 years ago by the civilization of the same name. You will see pyramids, amphitheatres, a solar clock, a sacred oven and houses. Huge complex therefore, which it is believed that the Carals would have lived there for nearly 1000 years, and would no doubt have disappeared because of the drought in the region.

Trujillo & Chan Chan (1/2).
So let's go north, stopping in Trujillo for a day or 2, the time to visit the ancient city of Chan Chan, the former capital of the Chimu kingdom, a UNESCO World Heritage Site. It was built in the 4th century and conquered by the Incas in the 15th century. It is the largest pre-Columbian archaeological site, in a very good state of conservation and you will no doubt be surprised by the architectural style less "square" than that we know from the Incas.




Huaraz - Parque Nacional Huascaran y Laguna 69 (3-4d).
Next stop, the city of Huaraz with its Plaza de Armas, its Catédral y Sagrario San Sebastian, its Museo archeologico de Ancash, the Mercado Central and the Mirador Rataquenua. Enough to fill a good day or two depending on your timing.
Huaraz is also the starting point for several excursions and hikes, notably at Parque Nacional Huascaran which is located 43km south of the city. It is one of the most beautiful parks in Peru with +600 glacier, rivers, sumptuous lagoons such as Laguna 69 and mountains over 6000m of altitude including Huascara rising to 6768m. There is obviously a very varied fauna (Andean cat, various birds ...) and the price varies according to your type of tourism: 5soles for a classic walk and 65soles for dutrek and climbing. Really here, you might as well have fun. All the information is to be taken in Huaraz at the visitor center.

Cocachimba & Gogta ​​(2/3).
The small village of Cocachimba is the starting point for an excursion in the Amazon forest. You can go solo or book a day trip with transport, guide, park entrance and lunch. It's a 3h30 hike that awaits you until you finally arrive at Gocta Falls. Provide a raincoat and waterproof protection for your camera.

Mancora & Punta Sal (2/3d).
Last stop on our tour of Peru: Punta Sal on the coast in the far northwest. After all these adventures and all these walks, there is nothing like a well-deserved rest on the beaches of Peru. Relaxing atmosphere, feet in the sand and coconut water. We arrive in this fishing village through the town of Mancora (5hours by bus from Lima) in which we can also hang out a bit and party. You will understand, no great visits here, no great discovery, just ... the warrior's rest!

And much more :
Peru is a big chapter in this part of the world by the quantity of archaeological places to see and if you want even more, know that around the cities mentioned above, you still have many less touristy sites and all the more captivating whether it is the Palpa Lines in Nazca or the innumerable ruins on the side of Cuzco. From arid landscapes to the Amazonian forest, you have an ever more exciting range of activities.
Outro :
Peru is clearly in the top 3 countries on the continent for its pre-Colombian history. We imagine these lives and these civilizations passed through the landscapes and ruins that we travel through. History may often be tragic here, but you have to know how to accept it and marvel as best you can at the vestiges it has left us. So much to know about this Peruvian land, so much to learn through the cities visited. We necessarily leave with our heads and hearts full.
But the story doesn't end there as the adventure continues, depending on your final position, in Ecuador, Brazil, Bolivia, Argentina or Chile for ever more natural wonders and historical culture of the continent.
Exit To Peru - The mix
For long journeys, night or day, or for moments of relaxation in a little corner of Peru, discover our one-hour mix of Peruvian music, both current and traditional. To discover SOON !




---✈︎
Comments
Leave your comment